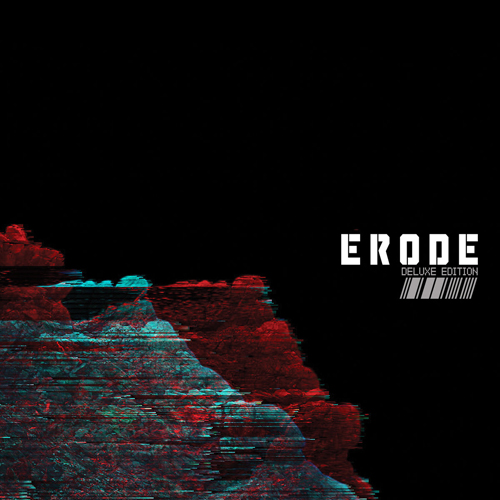 Slighter
Category: Electro / Industrial
Album: Erode
Blurb: Mechanoid rhythms with cinematic atmospheres, the latest full-length album from Slighter is a foreboding and sonically dense listening experience that suffers only from perhaps too much consistency.
Not unlike Deadliner, Colin Cameron Allrich has developed a formidable reputation in the electro/industrial music scene for his extensive remix work and studio contributions. Besides that, he's also released music under various guises, including Horrorfall, Deeptone, and The Pushers to name a few; but perhaps his most prolific and significant output has been under the name of Slighter, with Erode being his latest full-length release of original material. Full of expansive atmospheres and driving rhythms, the tracks on Erode are almost cinematic in scope as they explore a range of emotions and tonalities that do well to demonstrate Allrich's proficiency in the producer's chair, and prove his mettle as a songwriter.
The distorted mechanical thrusts and seething electrode arpeggios of "Activate" kick things off, a punchy groove punctuated by an insistent but simple bass and guitar progression underscoring Allrich's sinister vocals. It's an auspicious and forceful introduction that signals the sort of industrialized electro/rock to appear on tracks like "Disinformation" with its guttural guitars and mechanoid vibe, the sensual and slithering cadences of "Mute Yourself" too catchy to ignore, and "Lights Out," which features Craig Joseph Huxtable lending his resonant and almost bluesy vocal inflections that give the track a vibe not unlike Sister Machine Gun or Depeche Mode circa Songs of Faith and Devotion. The same can be said of the Ally mix of "The Rise" as it builds from quiet and insidious verses to a pernicious monster in the chorus, while other tracks like "Forward Edge," "Anthesis," and "Fail" fixate more on ambient, almost symphonic passages that would've not been out of place on any video game or sci-fi score. "Turmoil" sees Allrich collaborating with Cyanotic's Sean Payne and Kevin Barron, and from the onset, the Glitch Mode Squad's signature industrial beats and glitch-laden affectations are instantly recognizable; indeed, the track bears some resemblance to Cyanotic's "Signal the Machines," albeit with Slighter's more foreboding sensibilities, making it one of the album's most notable tracks. Finally, "Background Noise" concludes the proceedings with what starts out with sparse, almost martial percussion that once the funky bass tones enter turns into a lush soundscape of clashing organic and synthetic tones.
Deluxe editions of Erode feature some additional remixes from the likes of Dean Garcia, Keith Hillebrandt, and Rob Robinson, giving the album an added experimental dimension, although they do reappear somewhat redundantly on the later Erode: Recoded remix companion. As well, Erode can be a slightly arduous experience from beginning to end, for the shifts in mood are subtle to nigh indeterminate – each track stays in a rather somber and darkly apprehensive state, and while this does well to give the album a sense of tonal consistency, the limited variation does tend to relegate most of Erode to the status of background music, with deep listening through headphones only for the audiophiles who wish to revel in Allrich's abilities… but then again, there is, in fact, a great deal to revel in on that front.

Track list:
Activate
Forward Edge (feat. royb0t)
Mute Yourself
Turmoil (feat. Cyanotic)
Ghost of Me
Fail
Lights Out (feat. Craig Joseph Huxtable)
Disinformation
Anthesis
Error
The Rise [Ally Mix]
Background Noise
Pulser [Vox Dub]
Mute Yourself [Muted Hero Mix]
Error [Error'd Out Mix]
Activate [Deactivated Mix]
Lights Out [Legendary House Cats Mix]
Disinformation [Sound the Alarms Mix]

Slighter
Website, Facebook, Twitter, SoundCloud, YouTube
Confusion Inc.
Website, Facebook, Bandcamp, YouTube

Purchase at:
Amazon MP3
Bandcamp

2017-09-25

Ilker Yücel (Ilker81x)