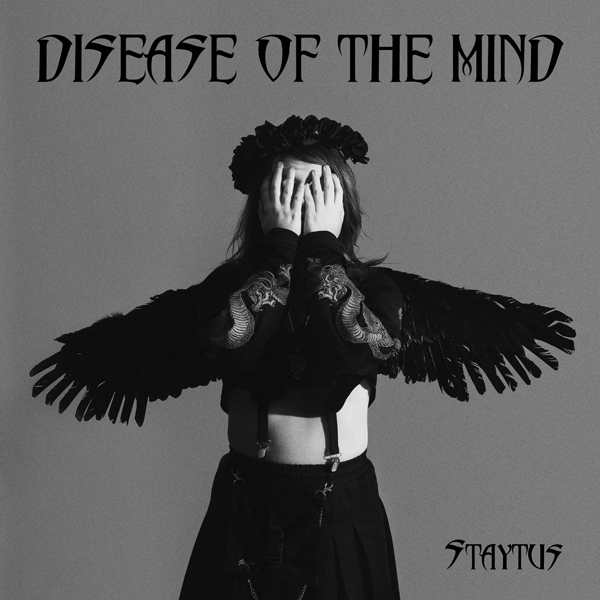 Staytus
Album: Disease of the Mind
Category: Goth / Industrial / Rock
Label: Self-Released
Release Date: 2022-09-11
Author: Ilker Yücel (Ilker81x)
Sam Grundemann has certainly made quite an impression in a short amount of time, earning accolades from several high profile figures in the industry for her talent and the earnestness of her subject matter. Written, performed, and produced entirely by her, Disease of the Mind sees Grundemann delving into her nu-goth blend of industrial and darkened alternative rock as a means to address various mental and emotional struggles. Of course, everybody perceives, processes, and ultimately copes with trauma in their own ways, so it's no surprise that the album is a rocky road to travel… in fact, it's designed to be such.
Right from the onset of "Absolute Terror," Grundemann challenges the listeners' faculties with strums of an acoustic guitar glitched and pitch-bent to immediately put one ill-at-ease; the drums rumble and the guitars roar, but what's especially disquieting is the exhausted and resigned vocals, struggling but failing (perhaps deliberately) to find some sense of a melody. This continues on songs like "An Echo in Space" and later "Nevermore," the dissonance of the instrumentals almost countermanded and made all the more harrowing by the vocals. If one were to judge Grundemann's abilities based on these tracks, one might accuse her of being tone deaf.
However, other songs on the record prove that this discord is likely intentional, an expressive quality inherent to the album's themes of addressing one's harshest demons. Lines like "I just want my chance at redemption again" on "Dreams From Hell," "I can never be what you want me to be" on "Arrhythmia," and "Is it enough to disobey" on "Decay" resound with a palpable rebelliousness and assertion of her artistic and personal identity, her passionately strained voice backed forcefully by a mélange of gutturally distorted electronics, rolling beat structures, and slithering guitar leads. "Hourglass" is similarly catchy in its melodious hooks, even if the sheer volume of the scratchy synth and booming beats are somewhat overwrought, while "Part of Me" evokes memories of the '90s with its resonant tones and emotive balladry sounding like something out of U2's Zoo TV era.
Some songs aren't likely to inspire repeated listens, but such is the point of sharing trauma so that none need endure it again needlessly. Comparisons can be made to the likes of Pharmakon, Lingua Ignota, or even Nine Inch Nails a la The Downward Spiral, and Staytus makes no effort to conceal the latter's influence; still, Disease of the Mind is an album of such sonic and lyrical intensity the likes of which is usually reserved for artists with a more established and proven pedigree.

Track list:
Absolute Terror
An Echo in Space
Arrhythmia
Crawling
Decay
Don't Die
Dreams From Hell
Hourglass
Nevermore
Nobody Cares
None of It
Part of Me
Really Gone

Staytus
Website, Facebook, Twitter, Bandcamp, YouTube, Instagram