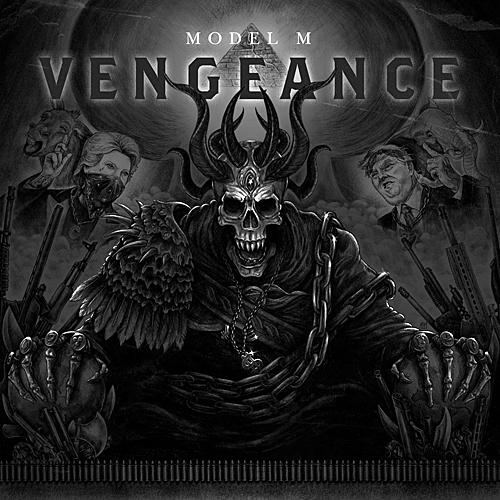 Model M
Category: Industrial / Dubstep / Electro
Album: Vengeance
Blurb: Dubstep, techno, glitch, industrial with a vocal delivery somewhere between goth and death metal.
For this writer, Model M is a recent discovery; the brainchild of Terrence Dick, Model M's music was surprising for how professional and well done the overall project is for an independent release. Vengeance is a mix of styles ranging from the techno influenced industrialized dubstep of "Total" to dark and brooding tracks like "Heaven Calling," each song bringing its own unique voice to the album. On the Model M website is listed the combinations of genres that influence Dick's sound and believe me folks, this doesn't let you down. Vengeance hooks from the very beginning with "Total" and this writer can actually say that this is my first favorite release of 2018 so far.
There are elements of breakbeat, drum & bass, glitch, industrial, rock, and even goth ala Bauhaus. While this grab bag of genres sounds like an intense round of chaos, Dick brings it all into focus with tight production and programming that is sparse at times and at other times as thick as my grandmother's pea and ham soup with a whole sleeve of saltines. This album challenges the listener to escape preconceived notions of what goes together and what each individual genre should sound like. A track like "Blood," for example, has a slow vibe to it with dubstep style sounds and a vocal delivery reminiscent of Peter Murphy; in fact, Murphy's vocal style can be found all over this record, let alone the guttural screams of bands such as Napalm Death.
The unique mishmash of genres honestly keeps interest throughout the 14 tracks (a bonus remix comes with the Bandcamp download) of solid audio excitement. With as much music as I listen to in a day, a week, a month, or a year, it requires something special to capture and maintain my interest and like me, you're sure to find yourself diving back into this record to discover new sounds and new ideas that may have been missed the first time.

Track list:
Total
Rock This [The Vancouver Mix]
Heaven Calling
Blood
Set the World on Fire
Monster
Thunder (feat. DOGHOUSE)
Vampire Swamp Song (Witch House)
Feel Alive
Letting Go
The Sound of Vengeance
Shiva
Nail

Model M
Website, Facebook, Twitter, SoundCloud, Bandcamp
Oh Just Peachy Studios Productions
Website, Facebook, Twitter, YouTube

Purchase at:
Amazon MP3
CDBaby
Bandcamp

2018-04-03

Gabe Wilkinson (Microwaved)