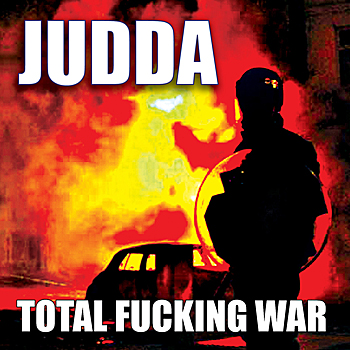 Judda
Category: Industrial / Rock
Album: Total Fucking War
Stars: 3.5
Blurb: Not just a time capsule of a band that came apart at the seams before achieving its full potential, but also of that time and sound of '90s industrial/rock in all its vile and vicious splendor.
There is something quite novel and even alluring about the existence of a band that achieved a kind of mythical status without ever having released an album; such is the case for London's Judda, a group that became known in the underground scene for its intense, raucous, and even violent live performances. The band's reputation became the stuff of legend, sharing the stage with such acts as Cubanate, PIG, and Optimum Wound Profile, and save for a couple of remixes and some compilation appearances, Judda dissolved amid tensions between band members during the recording of what should've been a debut album. Enter UK industrial/rock label Armalyte Industries, presenting what is now not so much a debut album as it is a historical document, a time capsule to showcase what once was and might have been, Judda's Total Fucking War.
You have a song like "Age of Treason" with its slow and mechanical rhythm and coldly fluid synths that sound like a cross between a choir and an orchestra hit, or "We Know Who You Are" with its tribal drum fills and vocals and lyrics driven by its clever manipulation of samples from 1979's Mad Max. The juxtaposition of techno rhythms with funky bass and drum rhythms on "Slug" and more so on "Dance Like Fools" easily recalls the earlier work of My Life with the Thrill Kill Kult, the inclusion of a sample from Motörhead's "Ace of Spades" making for a nice refrain, while "Bark" begins the album on full throttle with an almost rap-like delivery in the verses that gives way to an anthemic chorus that would still get audiences chanting along even today. The mangled orchestral samples of "React" bear a resemblance to something PIG would have done, which is perhaps why PIG went so far as to not only produce but also remix the track.
Total Fucking War is an album very much of its time, with all of the tropes of '90s industrial/rock on full display, making it not only a document of Judda's existence but also of the scene in this time period. Everything from the lo-fi and understandably inconsistent production quality (these recordings are culled from different sessions, after all) to the abundance of samples, often used as much as a compositional device as they are textural, to vocalist Pedro's roaring punk-like delivery spouting lyrics that perhaps have some sort of sociopolitical bent is reminiscent of that last decade of the 20th century. Play this album alongside the likes of Cubanate's Cyberia, PIG's The Swining, or anything from the WaxTrax! or Fifth Colymn Records catalog, and the similarity in sound and style is easily discernible. That's not to say this is a bad thing; quite the contrary, it makes the loss of Judda all the more palpable as Total Fucking War showcases a band that had all the potential to become one of the biggest and most revered of its time and genre.

Track list:
Bark
React
We Know Who You Are
Revenge
Age of Treason
Dance Like Fools
Glory Be
Slug
Crusade
Bark [PIG Remix]
React [PIG Remix]
We Know Where You Live
React (Backing Track)
We Know Who You Are [Remix]

Judda
MySpace
Armalyte Industries
Website, MySpace, Facebook, Twitter, SoundCloud, Bandcamp

Purchase at:
Amazon CD (1)
Amazon CD (2)
Amazon MP3
Bandcamp

2015-10-26

Ilker Yücel (Ilker81x)