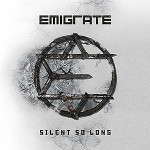 Emigrate
Category: Industrial / Metal
Album: Silent So Long
Stars: 3.5
Blurb: Making strides to establish its own sound and identity, Emigrate further sheds the traces of band leader Richard Kruspe's other main group with a little help from some notable guest performers.
When Richard Kruspe began Emigrate in 2005 and subsequently released a self-titled album two years later, some might have wondered what the point was considering the numerous similarities this project bore to his primary outlet, Rammstein; indeed, even the opening track on the album was titled "Emigrate" and wrought with the same Teutonic marching beats and martial guitar riffs Kruspe consistently exhibits in Rammstein. More than a few songs off the album followed suit with what essentially could have been seen as outtakes from his main band, although Kruspe's songwriting skills were also properly showcased with more distinguished tracks like "Babe" and "Temptation." Now seven years later, Emigrate is ready to unleash its full potential with the appropriately titled Silent So Long.
One of the more notable aspects of Silent So Long is the presence of several guest vocalists, with Seeed's Frank Dellé kicking off the proceedings with the bombastic rocker "Eat You Alive." From the onset, the crushing guitar riffs overlaying the throbbing synth bass and driving percussion makes the song an effective and energetic opener with just a hint of sleazy atmosphere. In a similar fashion, the next track, "Get Down" struts sexily and smarmily with Peaches adding her signature erotic charm atop a pulsating electronic beat, a scratchy guitar solo adding a distinctive flavor to the song, while "Happy Times" finds Kruspe harmonizing with backup vocalist Margaux Bossieux, along with a glichy keyboard solo for good measure, giving the song a slinky and somewhat menacing vibe. The interplay of edgy electronics and blazing guitar-driven industrial/metal on such slower tempo tracks as "Born On My Own" and "Giving Up" help to accentuate the lyrical content, while more riff-oriented tracks like "My Pleasure" and "Rainbow" are much more straightforward and more indicative of Kruspe's work in Rammstein without sounding too close for comfort. On the other hand, despite its almost bluesy cadence, "Faust" marches with all the pomp and bombast of his other band, albeit with his vocals and the more pronounced electronics giving it the Emigrate character. Unfortunately, the same can't be said for "Hypothetical," which even with Marilyn Manson's guest vocal might as well have been submitted for Rammstein's use instead; it's arguably the weakest track on the album. Also, far be it for this writer to denigrate anything featuring the great Lemmy Kilmister of Motörhead, but given the thrashing speed of "Rock City," one has to wonder if the album wouldn't have been better served by letting Lemmy use the song in his own band. Ending the album is the creeping atmosphere of "Silent So Long," the stuttering electro beats and distorted bass underscoring a marvelous chorus wherein Kruspe and KoRn's Jonathan Davis harmonize exceptionally well, making for a thoroughly powerful closer.
Perhaps the traces of Rammstein are inevitable, but Kruspe and his cohorts do well to shed these traces as much as possible to give Emigrate its own identity; even in those moments when they don't succeed, they maintain a consistent level of scathing musicianship and display magnificent hard rock chops that along with the more industrialized elements of tasteful programming and synths make Silent So Long a raucously enjoyable album. Having shown considerable development since the first album, hopefully, Emigrate will not need another seven years to take things further.

Track list:
Eat You Alive (feat. Frank Dellé)
Get Down (feat. Peaches)
Rock City (feat. Lemmy Kilmister)
Hypothetical (feat. Marilyn Manson)
Rainbow
Born On My Own
Giving Up
My Pleasure
Happy Times
Faust
Silent So Long (feat. Jonathan Davis)

Emigrate Website http://www.emigrate.eu
Emigrate MySpace http://www.myspace.com/emigrate
Emigrate Facebook https://www.facebook.com/Emigrate
Emigrate Twitter https://twitter.com/EmigrateBand
Spinefarm Records UK Website http://www.spinefarmrecords.co.uk
Spinefarm Records UK MySpace http://www.myspace.com/spinefarmrecordsuk
Spinefarm Records UK Facebook https://www.facebook.com/spinefarmrecordsuk
Spinefarm Records UK Twitter https://twitter.com/spinefarm

Purchase at:
Amazon CD
Amazon MP3
Amazon Vinyl

2014-11-17

Ilker Yücel (Ilker81x)