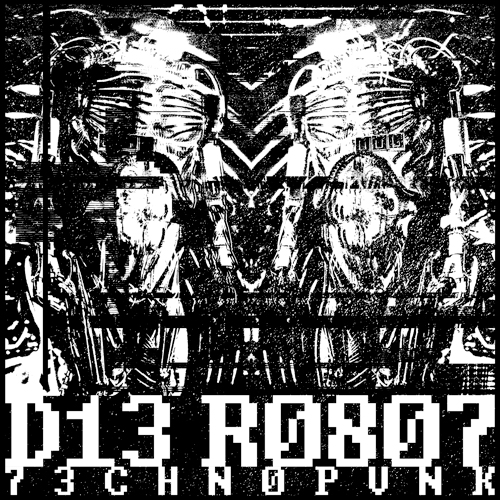 Die Robot
Category: Electro / Punk / Industrial
Album: Technopunk EP
Blurb: Insistent bass grooves, scalding electronics, and energetic beats with a bit of punklike vocal energy – all elements to define Die Robot's latest and appropriately titled EP.
Formed by Barbie Saint and Vince Christian out of the ashes of their previous Pop Dolls collaboration, Portland's Die Robot has been steadily making more than a few tidal waves in the Pacific Northwest. With a self-titled EP, several single releases, and numerous live and festival appearances to solidify the band's reputation, Die Robot now takes the next step with the Technopunk EP, a prelude to an upcoming full-length record. With four original tracks and two remixes, Technopunk is an appropriate title for the EP's fiercely electronic groove and abrasive punk swagger.
A series of overdriven electronic pulses squelch through the speakers, leading to the energetic and martial display of Saint's steely bass grooves and Christian's gritty vocals on "Armed Forces." It's a rather striking intro with a catchy chorus, Angela Halo's beats insistent and gyrating along with the acidic synth textures to set the tone for the rest of the EP. Producer/keyboardist John Case's own Grab Your Guns remix offers an alternate arrangement with more dynamic beat structures, but the differences are rather minute compared to Particle Son's more sparsely electronic rendition of "Human Eyes," the background vocals and spooky theremin-esque melody given greater prominence, but this writer must admit to finding the original's bouncy synths and scathing guitar tones to be a more effective version of the song. "Beautiful Skin" has a distinct '80s electro vibe with Christian's spry lyrical hooks more reminiscent of the retro trends of the last decade as opposed to the current synthwave, which gives it a character of being out of place and time, while the strutting rhythms and sweeping melodic layers of "Virtual Life" make it irresistibly catchy.
One may feel a sense of déjà vu when listening to Technopunk, which can work both in its favor and against; this writer must confess to having spent much of the EP wondering where he'd heard these hooks before, though this was hardly a detriment. As a band, Die Robot is a very tight-knit unit as every aspect of the musicians' performances are locked in to create a very clean and fresh production. And yet, Technopunk is not polished to such a pristine degree, with Christian's vocals being especially raspy and often just missing the mark to give it a truly punklike feel that can sometimes be as caustic as the electronics. Regardless of these minor issues, Die Robot is a band with a clear aesthetic and personality that at the very least deserves some exposure beyond the Pacific Northwest.

Track list:
Armed Forces
Human Eyes
Beautiful Skin
Virtual Life
Armed Forces [Grab Your Guns ReMix]
Human Eyes [Particle Son ReMix]

Die Robot
Website, Facebook, Twitter, Bandcamp, YouTube
Enfected Records

Purchase at:
Amazon MP3
CDBaby

2018-01-01

Ilker Yücel (Ilker81x)