One of the most respected and busiest guitarists in modern music speaks with ReGen on the creation of his solo album and his upcoming endeavors.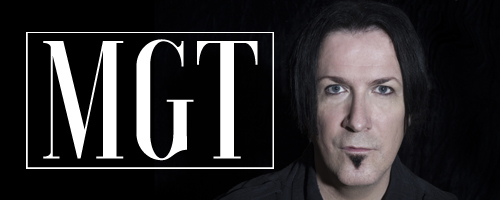 An InterView with Mark Gemini Thwaite

By Ilker Yücel (Ilker81x)
Volumes
, featuring a cornucopia of his brand of darkly eclectic and energetic alternative rock stylings, complemented by a wide range of today's most exciting and renowned vocalists – Ashton Nyte of The Awakening, Ville Valo of H.I.M., Wayne Hussey of The Mission, Raymond Watts of PIG, Saffron of Republica, and Julianne Regan of All About Eve, just to name a few. From the album, the music video of his cover of the ABBA classic "Knowing Me, Knowing You" with Ville Valo reached over half-a-million hits on YouTube within a single month, with a second video for "The Reaping" with Ashton Nyte following shortly after and laying the groundwork for
Volumes
to rank as one of the year's hottest releases. MGT now speaks with
ReGen
on the creation of his album, specifically on the cultivation of his many musical relationships and how they came to create the music on
Volumes
, along with a few hints about his upcoming endeavors with Gemini Nyte, touring with Ricky Warwick, and a new Schecter signature guitar.
In our last Interview, you'd spoken about your process of stockpiling demos and then choosing singers to perform on the album. You'd also spoken about how with Al Jourgensen on the 'It's Always Christmas Time' single, he'd picked the demo you least expected him to choose.
Were there any instances on the making of Volumes where a similar situation occurred, where the singer picked a demo you may not have had in mind for him/her?
MGT
: Yes, I sent each singer a few demos to work with and pick from last summer, tried to supply a variety of different musical vibes, hoping that at least one of the songs would tickle their fancy. One that did surprise me was 'Snake in the Grass,' the demo and eventual song that Mission vocalist Wayne Hussey picked – he sang on a demo I had originally put together for Raymond Watts a few years ago for a potential PIG collaboration, born out of our Primitive Race collaborations. The songwriting sessions with Watts had gotten derailed and that music demo was lying around when I decided to send it to Wayne, along with a few others, and it was that music that Wayne chose to roll with. It's probably one of the more electronic rock tracks on my album; Wayne did a great job! I like the Depeche Mode vibe he's given it.
You've spoken to me about how the song 'Coming Clean' with Raymond Watts of PIG was a song the two of you worked on for the upcoming PIG album, but that he felt was 'too rock,' so better suited to your album. As well, you've worked with Ashton Nyte on two tracks on the album, plus have a new project with him – Gemini Nyte.
First of all, can you tell us about that process of selecting songs, how you select which ones go on your album or on one of theirs? How much of that happened on Volumes, where you got to use a song originally intended for another purpose/release?
MGT: I had other demos that had been written for previous bands and artists I had been working with; for example, the demo for 'Sweet Valentine' was originally written and demoed with Peter Murphy in mind a few years ago, as I was in Peter's band, but he never recorded a vocal for it and he declined to appear on Volumes. So, I eventually gave that demo to Carlo Van Putten to sing on, and 'Star Struck Eyes' started life as a demo I wrote and recorded with Wayne Hussey in mind, around 10 years ago – back when I was in The Mission – but it was never used and so I sent it to Julianne Regan last Autumn, and she came up with the most amazing vocals and lyrics.
Secondly, tell us about your partnership with Ashton Nyte and how the two of you came together in the first place, and what led to the formation of Gemini Nyte?
MGT
: It's true that Ashton and I quickly developed a songwriting style during the first couple of co-writes together; he collaborated on both 'The Reaping' and Jessamine' on my solo album, there was even a third song initially called 'Tear the Sun,' which was intended for my album. But as more and more songs came in from various singers, and Ashton and I continued to write more material together, we decided quickly to form a side project – tentatively called Gemini Nyte, which I thought was an amusing amalgamation of our names and an evocative band name with it's double meaning – and I decided to save 'Tear the Sun' for that album, as it's one of Ashton's favorites. We eventually wrote and recorded over a dozen songs together since last year, plus a couple of additional cover songs, which will surprise some people. We are hoping to release that album sometime after the promotion on my solo album is completed. For any fans of 'The Reaping' and 'Jesamine,' I can confirm that the GN album is jam packed with material just as good as those songs.
What can you tell us about material that may not have made the cut – with so many demos and having so many musical associations and friendships, were there any songs recorded that didn't make the album, or that might see some sort of release in the future?
MGT: Well, in addition to 'Tear the Sun' mentioned previously, there was also a hard rock cover of the REM classic 'Everybody Hurts,' recorded with New Disease front man Jacob Lee Bane; a recording that actually dated back 12 years but had never been released before, but as I received more and more completed songs by all the singers, I had to make some room and as 'Everybody Hurts' was another cover and a relatively old recording compared to the others, I decided to keep it off the album and make it available to the label as a bonus track or B-side if needed. I already had two covers on the album, the ABBA cover with Ville Valo and 'Seconds,' a Human League cover with Saffron of UK band Republica. There was also an introspective guitar instrumental called 'Epitaph,' which was originally going to end the album, but it was acoustic based, similar to 'Dark Storm,' and I decided to go with Andi's song as the album closer and saved 'Epitaph' as a possible bonus. Gary Numan was also tentatively interested in being involved; I had toured as Gary's guitarist a few years ago. He liked the demo I had sent him, but once his new pledge for his new album started, he didn't have time to work on a vocal so that will have to wait for my next solo album, if I ever do a follow-up!
Regarding the cover of 'Knowing Me Knowing You' with H.I.M.'s Ville Valo (whose own covers in HIM have tended to be more rock oriented – i.e. '(Don't Fear) The Reaper,' 'Rebel Yell,' etc. so covering ABBA is a wonderful if less-than-obvious choice), how did the two of you come to work on this particular song?
MGT
: I'd had the inspiration to record a dark heavy and brooding version of 'Knowing Me Knowing You' for years; I even had a monthly reminder in my calendar to remind me to do it. The problem was I'm not a singer, and I had no real reason to record it and get a singer on it until I decided to finally put together a solo record. It was a challenge to record the song and make it my own. In my mind, ABBA are masters of pop/rock songwriting and rather than completely change the song on my version, I chose to show respect for the original and keep most of what made that original version so good. I learned every chord change and bass line and lead guitar part from the original and then recorded each part with reverence to the original, but injecting my own flavor into it. I chose to slow it down as much as I could (without it feeling too sluggish) and approached the guitars in a specific way, probably drawing from my experiences as guitarist with The Mission for many years. Once the demo and song arrangement was recorded, I sent it to Ville, who was an old friend of mine, and was pleasantly surprised when he immediately agreed to sing on it, and within two weeks, he had recorded his take on the vocals, complete with all the layered harmony vocals, and I mixed the song in my home studio. Eventually, we decided to have our mutual friend Tim Palmer mix the record, which was a great choice.
With different vocalists, I'm sure the prospect of performing the music on Volumes live would be difficult at best. What are your hopes/plans to take the material live, if at all?
MGT: I've had this conversation with a few of the singers on the album, and of course, my label and the main obstacle is the logistics of it all, what with all of the participants living all over the globe. Plus, it would be impractical to have all of the singers involved when many of them only sang on one song, so it would make more sense to have one or two singers sing for the live band and take it from there. I do have some musicians lined up for any potential shows, but as it will be costly to get the band in one place to rehearse and then on a festival or tour, it will have to take a reasonable offer from a promoter to make it all happen. Ashton is an obvious choice as we're already working on Gemini Nyte together, but I'd like to involve more of the singers if possible, depending on logistics and their availability. I also play in Ricky Warwick's solo band and we will be touring Europe again later this year, so maybe we can whip up a version of 'Drive & Forget' for the fans – that would be cool.
You mentioned an instrumental acoustic track, 'Epitaph' as a possible bonus track. Did the thought or possibility of recording an instrumental album ever arise (maybe not necessarily instead of Volumes, but perhaps a separate release or a companion release)?
MGT
: Well, one of the reasons I avoided the whole idea of a solo album in my role as guitarist (and not a singer) was that I associated guitar player solo albums to usually be self indulgent muso fests full of instrumentals, a la Steve Vai, Joe Satriani, Yngwie Malmsteen, etc. I certainly had no interest in doing that sort of thing, but as I'm not really a singer, I avoided the whole idea of a solo album for many years. With
Volumes
, the compromise was to have my friends and associates provide the vocals to my compositions. I did compose one instrumental – 'Epitaph' – earlier on in the recording and writing process as I assumed I would need at least one for the album, but so many singers contributed that I ended up asking the label to save 'Epitaph' as a future bonus track or B-side. I'm unlikely to record any more instrumentals unless it's for a movie or TV show.
There is a definite gothic quality to the imagery in the music videos for the album, as well as the artwork; as we'd spoken before about music as an art form, can you tell us what the imagery means to you and how you feel it works to enhance the musical presentation on Volumes?
MGT: I can't take complete credit for the imagery of the sleeve art or the videos… in the case of the two videos so far – 'Knowing Me Knowing You,' directed by Ville Juurikkala, and 'The Reaping,' edited by Mont Sherar – both of those guys had their own vision for how the video would appear, the tones, atmosphere, etc. In the case of the ABBA cover, Ville Valo suggested we have a similar winter feel and vibe as the original ABBA video back in 1977. With 'The Reaping' video, its basically a performance video – the band rocking out in a studio – but Mont's additional imagery, taken from images I supplied for the Volumes CD booklet, plus some of his own, nudged the tone of the video into darker, more gothic territories, with the shots of the castles and cathedrals, which feature as background images in the booklet. That suggestion also came from Valo, who saw some of my UK holiday pics taken on my iPhone 6 from various UK castles and cathedrals I'd visited last year and was suitably impressed; he suggested I use some of those photo images for the album artwork… good call!
We'd spoken before about the industry and how you felt a need for a change in how digital royalties are distributed to artists. What are your thoughts on the way artists – especially those with a long tenure in the 'industry' – themselves have to seek better means to release their music, mostly without the aid of the 'industry,' and in effect become involved in the business that they may not have had to before?
MGT
: I'm all for the new 'cottage industry' that the internet makes available through services such as BandCamp, PledgeMusic, etc. In fact, I most likely would have pursued that same route with my solo record, but once we recorded the ABBA cover, Ville suggested he ask his management team shop it to some European labels as he felt it deserved a physical release and a video, etc. and I wasn't really planning on either of those things. My idea was a pure digital release, pretty immediate, no marketing campaign or anything. I suspect Ville was right to suggest getting a label involved; now we have a video with over half-a-million views in just one month… but I have good friends with established careers such as Gary Numan and Wayne Hussey/The Mission, as well as Ricky Warwick and his recent solo album I played on, which was initially a PledgeMusic campaign release and was then picked up by Nuclear Blast for a follow-up commercial release. Going down the PledgeMusic campaign route is working well for them. Power to the people!
Anything else we've not discussed that you'd like to talk about? Any other forthcoming projects, collaborations, etc.?
MGT: I'll be going back out on tour with Ricky Warwick and the Fighting Hearts in Nov/Dec (Europe). Plus I'm putting the finishing touches to the Gemini Nyte album with Ashton Nyte. We have 14 tracks now completed; if anyone likes 'The Reaping' and 'Jesamine' off my solo album, they will love the GN album. It's wall to wall rock & roll nirvana! There's also talk of more Primitive Race.
I'm also proud to confirm that Schecter Guitars has put together an exclusive MGT Signature Solo-II prototype guitar, completely based on my specifications. I based it on their new Solo-II model, which I was playing on my recent UK tour with Ricky Warwick and The Fighting Hearts. The prototype was made completely to my specs, color choices – with ultraviolet top and natural red stained back and sides with double binding. Also all hardware choices with Bigsby and my selection of Seymour Duncan JB and Alnico Pro II hum buckers… it's an amazing looking and sounding guitar! Schecter plans to put a limited run into production later this year, so watch this space!
In addition, MGT was kind enough to provide some testimonials from his fellow artists and guest vocalists.
Ville Valo: Mark is a friend, and the stars were aligned… it was the right song at the right time. I love 'The Reaping,' and I hope all the goths of the world will find their way to it!
Miles Hunt: During the very opening few seconds of the first piece of music that Mark shared with me, I knew that I had to sing on it. By the time I had gotten to the end of that first piece of music, I had the whole song fully formed in my head. I felt that this music was written for me to sing on and to write lyrics for, a feeling I had not had in a long, long time.
Ricky Warwick: Mark is a fantastic musician and a good friend, so it was a privilege, honor, and no brainier when he asked me to contribute to his album. It's always fun, easy, and inspirational working with Mark, the way it should be always.
Wayne Hussey: Mark and I have written some very fine tunes together over the years, and this one, 'Another Snake In the Grass' ranks alongside the very best of them.
Saffron: The moment Mark played me the chords he'd written (for 'Seconds'), I had hairs standing on end; I was so excited! Wow, what genius work as he had taken the original and basically transformed it into potentially a huge anthem. I've so enjoyed working with such a dear friend, and massively proud the world is finally getting to hear his genius.
Julianne Regan: I met Mark through Andy Cousin (All About Eve, The Mission) over 20 years ago, and so how neat and sweet it is that we all three of us are now reunited in this song. we are both from the English Midlands, and we're apparently not as 'earthy' as Northerners and not as 'sophisticated' as Southerners, but we hail from a part of the UK that has provided the world with some of the best bands on the planet.
Andi Sex Gang: You just get the feeling that Mark considers all things as to their true import and expresses accordingly. He reflects that in his approach to music, wonderfully. When Mark sent me the track 'Dark Storm,' upon first hearing, I fell in love with it; such a beautiful piece of songwriting, powerfully emotional. How could I refuse!
Erica Nockalls: As Mark was taking the time to record for me, I'd constantly remind him to call favors in from me if ever he saw fit. He's finally done that, and it's been an absolute pleasure to write and record strings/vocals for Mark.
Carlo Van Putten: I really like Mark as a person as well as a unique guitarist and songwriter. When he sends me a couple of songs, I immediately have had some ideas on them. One of them made it on this album; I think Mark made the right choice!
Ashton Nyte: Mark's playing is diverse and inventive and his music is a fabulous muse for writing lyrics and vocal melodies. 'The Reaping' and 'Jesamine' were among the first songs we completed and I am delighted that they are here, alongside so many other wonderful songs and artists. I am as proud of these songs as I am of my favorite moments of either The Awakening or my solo catalog.
Raymond Watts: In the morally pure parish in which I happily reside, it seemed rather strange to have this ruffian MGT pull up, park his bag of rock & riffs, and commence polluting the neighborhood. Despite feeling somewhat held to ransom by this savage and depraved noise, I can't help feeling it might have helped release something that is better out than in.
Previews/pre-orders of Volumes can be viewed here: http://mgt.lnk.to/Volumes
Mark Gemini Thwaite
Website, Facebook, Twitter
SPV Records
Website, Facebook, Twitter, YouTube
Photographs courtesy of Mark Gemini Thwaite & SPV Records