Prolific, pioneering, potent, and powerful, EN ESCH remains a vital force in modern industrial and electronic rock music, speaking with ReGen about his upcoming album and more.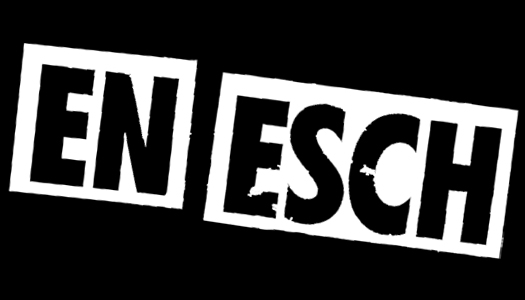 An InterView with EN ESCH

By Ilker Yücel (Ilker81x)
Trash Chic
, which received a considerable overhaul of sound quality in 2022, but even that was a mere snippet of more to come. So far in 2023, he has revealed the "Et Nos Unum Sumus" track – a multi-faceted multilingual composition for the "Kulturprojekte Berlin" sound installation – and then the "Push" single, the latter offering the first taste of his long-awaited fourth full-length solo effort; true to his unique blend of hip-swinging industrial grind and soulful, funky electro/rock, "Push" featured ESCH working with longtime cohorts Raymond Watts and Erica "Lady E" Dilanjian, as well as Seraph Sin's Gabriel Lennox, and fellow GIVE/TAKE associate KPT, signaling his integration into the forward-thinking and avant-garde focused label, with the album expected to arrive later in the year. With a new single looming on the horizon,
ReGen Magazine
had an opportunity to speak with EN ESCH about his musical and artistic efforts over the past several years, the current state of the music industry, music technology, social media, touring and live shows, his numerous collaborations, and the ultimate fate of Slick Idiot.
First of all, how are you? How's your health?
ESCH: Good as it gets – I'm still alive. I stopped drinking alcohol almost three years ago. It was overdue to stop – the result of a real rock & roll lifestyle hurts one's body.
Let's start with the 'Push' single, which is your first release with GIVE/TAKE. Of course, we have the familiar voices of Erica Dilanjian and Raymond Watts, but you also worked with Gabriel Lennox (Gabriel Falls, Seraph Sin, Revampyre, etc.). How did you come to work with him on this song, and what did you find to be the most rewarding aspect of this collaboration?
ESCH: I met him on a PIG tour in the U.K. when his band Seraph Sin was opening up for us. He's a very nice, empathic, and talented person who's a joy to hang out with and work on some music with. We started to write 'Push' during a time I visited him in Glasgow, Scotland.
You state that the song is 'an ode to the underappreciated,' for those who are often overlooked for one reason or another despite their dedication and the work they do. On that note, are there any people or figures in particular that you'd like to call attention to?
ESCH
: I'm talking about people like my parents for example, working hard all their life, trying to stay correct and follow the rules. It seems society likes to celebrate bullies and hustlers having fabulous careers and doing their thing and going their way and they know what they want, but it's in an obnoxious way. And there are always people behind what those people do. They are the ones with the real talent and the real work ethic, and yet, they remain unrecognized. You can experience that at school, in a workplace, in politics, and even in bands. It makes one believe that to be openminded, to be friendly and understanding to your fellow man doesn't pay off when compared to the success of some people who display exactly the opposite behavior. It seems that to act like an asshole will pay off more and be looked up to as the way to be. In a way, nothing changed in principal and has been the same over the last few thousand years. The antisocial behavior and lack of solidarity seems to be viewed as clever instead of nasty. Distorting the truth and causing division among people is not cool and not smart. Very typical – the people least concerned with personally behaving in a correct manner will often use morals as a way to back up their 'schtick.' They'll say one thing and do another or say something because they 'should' when it's not even anything they believe in, and they do all this with the goal of deceiving a target audience.
Social media… on the one hand, people can share information and opinions and make their voice heard; on the other, it allows more avenues for the kind of harassment and bullying you're calling out in 'Push.' In what ways do you feel that things like social media has affected the way people communicate and interact?
Outside of creating a song like 'Push,' what do you think should, or at least could, be done to counteract the negative effects?
ESCH: It seems that for a long time, it wasn't fashionable for certain people to call out certain things because it wasn't hip or accepted to do so. With the changes to social media combined with a certain old-school masculine mindset, it became easy to spread filth all over the place, sometimes to be considered 'humor,' and other times just to be nasty and bullying. The insulting messages and bullying are highlighted on social media while the positive messages stay underrated because they are less spectacular and sort of less memorable. Also, in the earlier days of the internet, assholes knew they could get away with massive bullying and telling lies because of staying anonymous and therefore being safe from criminal investigation. There needs to be something developed to track, remove, and prosecute lies and attacks on people on social platforms.
Mona Mur recently released her Snake Island with GIVE/TAKE, so I'm presuming that played a part in your decision to sign with the label… but tell us about how you first encountered them and what your impression of GIVE/TAKE was? Having been on several labels (and running your own) in the past, what most attracted you to the prospect of working with GIVE/TAKE?
ESCH: What I like about the people running GIVE/TAKE is that they have a real understanding of and appreciation for the musical genre I'm part of. The specific concentration of the label on electronic avant-garde is a huge plus, and also, the direct and personal contact of the people running the label is something I appreciate.
'Push' is the first taste of the forthcoming album following up Trash Chic, and while it's been nearly seven years since that album, you have been busy writing and touring with PIG and recording for the likes of Blue Eyed Christ, Mona Mur, and REVillusion, as well as the 'Et Nos Unum Sumus' piece. And that's not to mention the pandemic…
Would you tell us about the writing and recording process for 'Push' and the new album?
In what ways do you feel the global situation affected your songwriting – either in terms of the process by which you write/record, or perhaps in the lyrical themes you approached?
ESCH
: The pandemic threw me back quite a lot. I was supposed to go on a big Pigface U.S. tour when it hit us. I stayed busy in that time though. I worked on music a lot and I stopped going out and stopped drinking alcohol. Doing that helped me to feel and look better. So, it was good for something. I realized just how good it is to not take everything for granted and it gave me a new perspective on my own life, especially lyrically and musically. Of course, the global situation affects my songwriting. In my music background and school of writing music, a reflection of political and social development is and was always a big influence. Even in the old KMFDM days, we often referred to ourselves as a political band, but without the propaganda and agitating.
Besides Gabriel Lennox, are there any other guest appearances on the forthcoming album that you'd at least like to hint at?
ESCH: There are a few more collaborators on the next album, some you might know from the American and German music scene, and others you might not know yet. I don't want to talk about details until the music is recorded, produced, and finalized. I've always liked to collaborate with others and that's a great aspect of our modern days, that you can collaborate with people professionally who are on the other side of the globe.
After the 2022 high resolution mix of Trash Chic, you revealed 'Et Nos Unum Sumus,' a piece you created for a sound installation for Kulturprojekte Berlin. The track features 206 national anthems playing in unison, along with lyrics in multiple languages. What were the biggest challenges for you in the creation of this piece – obviously, the mixing/production process had to be very involved and likely more so than in your regular solo work… or was that actually the case?
What did you enjoy most about this particular piece? Is it an experiment that you'd like to undertake again?
ESCH: This is a unique concept that I had already planned back in 2005 when I was living in New York. I was happy to finally be able to do it! The final sequence of 'Et Nos Unum Sumus' had over 300 tracks, that was a beast to handle. I made sure that the anthems are all equal in intensity and loudness. I used all the anthems of the 193 member states of the United Nations and added the anthems of observers and known non-members. In the current version of 'Et Nos Unum Sumus,' the anthems only appear in the beginning and then kind of disappear behind the music. I will release an 'anthem only' version of that pretty soon to get the entire anthems sound idea across and that will also be in a 'Dolby Atmos' mix. To put it very simply, the anthems occurring all together sound very disturbing, but the world needs harmony. This piece has been created to be a political soundtrack of humans' global wrongdoings. And it's my statement against national interests being put above global necessities.
'Et Nos Unum Sumus' also featured co-production by Michael Carrasquillo, who had played live drums for Slick Idiot in the past, while Sylvia Carrasquillo appeared on the track as well. Tell us about their involvement and your continued partnership with Michael… will you two be working together more?
ESCH: I've known Michael for over 23 years and just as we've been working together in the past, we will be working together in the future. He is part of my musical family and also a big help when it comes to organizing and supporting my act. I was happy to use the voice of his daughter Sylvia on that track. For me, she signifies the sound of a future American generation.
Your two albums with Mona Mur have just been reissued digitally on Bandcamp; you also had the album with FM Einheit, Terre Haute, and while you have had a long partnership and work on each other's material, what are the chances of another Mona Mur & En Esch album in the future?
ESCH: My musical collaboration with Mona Mur is always a most rewarding and fulfilling one. We both like creative, intelligent, and innovative music. A new Mona Mur & En Esch record is absolutely possible in the near future.
It's been 14 years since Slick Idiot's Sucksess album. Günter has released his jazz trio album, and you continue to work with Slick Idiot's female singer Erica Dilanjian, and your solo work seems to extend from what you were doing in the band. Does Slick Idiot have a future at all?
ESCH
: Slick Idiot did outstanding work with the possibilities we had to work with; so much talent all together! We're planning to release a 'Best of' Slick idiot album pretty soon. After I moved to Berlin, it was harder to continue the way we worked before because of the logistics, him living in Vancouver, Canada, and me in Berlin. And we also both developed different musical interests over time. Günter is a pleasure to work with, especially in the studio. He opens up a totally different angle of listening to mixes and production issues. He is a musical genius and without him, certain classic and iconic records wouldn't have been as exciting as they are.
Trash Chic 22 presents the album in uncompressed 24bit 48KHz audio, superior to the CD. From a production standpoint, how do you feel the issue of audio quality affects the creative process? Do your ears focus on different aspects of the recording when you move from one quality level to the next?
It could also be argued that outside of audiophiles, most fans and listeners may not necessarily notice the differences… what are your thoughts on this?
ESCH: One can hear the difference between 24bit 48KHz sound quality versus CD or mp3 quality, especially when using headphones. Another good reason to offer those superior sound files is to give your supporters and music lovers a product that is only available on my Bandcamp site, neither on CD nor as a streaming MP3 file. Trash Chic 22 is also quite different from the original CD. I created new mixes of the tracks and fixed and changed certain things I had always wanted to patch up. It is reproduced, certain things were newly programmed, and it is remastered.
Lately, nostalgia seems to have manifested in different ways – from the resurgence of certain musical styles to several artists and bands reissuing older albums, rerecording older songs, cassettes and vinyl have come back, etc. What are your thoughts on this? What do you feel have been the key factors toward these looks back to the past?
ESCH
: What people like is the size of the vinyl cover and the playfulness of cassettes. This nostalgia is the result of the endless cheap music you can have access to 24/7, but nothing to hold in your hands of your favorite bands and artists. Most followers like to have something on their shelves of the music they like to support, but still use the digital ways to listen to it. As far as cassettes go, I also want to produce cassettes of my music pretty soon because they are still a well-distributed music media in so-called third world countries – another 'political argument' you could say.
During the lockdowns, you and Mona had done some livestreaming. Now that it's become part of the norm, what do you think of how livestreaming can be better utilized to advance visual presentation?
ESCH: I like the format. It comes across as an almost private, intimate concert for the followers. Do I remember correctly that a few artists asked their fans what songs they wanted to hear during the livestreaming? That's a very good idea indeed! It could become the future form of performance, but you need to charge some money in the long run to make it feasible for the artists to replace live shows. It would be better for the environment not to have the travel required to tour. Unfortunately, I like to travel, and I would miss being able to see my friends in all the different cities.
What do you think are the biggest difficulties with live performances right now? What do you feel artists, labels, venues, the industry as a whole should take away from the pandemic and use or think about going forward?
ESCH
: From what I've heard, after the pandemic it seems harder to tour. The audiences aren't showing up like they used to. Also, the cost of touring got even higher. But to see your favorite band live is still priceless. It would be nice to find a way that concertgoers can be involved more – like I said before, picking the tracks of the performance is a great idea. Having affordable 'Meet and Greets' and other ways for fans to participate would make it a more satisfying event, more of an interaction between the artists and their followers.
Any plans in motion to play live again soon?
ESCH: I'm planning to go out again for this upcoming album. I love to play live and to drive around a lot, like you need to, when touring a big country like the U.S.
Is there anything you'd like to add, anything I've not brought up that you'd like to talk about?
ESCH: I have to thank all my followers that support my musical journey. It is a pleasure to feel the love from all of you! Thank you personally, Ilker Yücel, for your longtime commitment and your support of the alternative music scene.
EN ESCH
Website, Facebook, Twitter, Bandcamp, Instagram
GIVE/TAKE
Website, Facebook, Twitter, Bandcamp, YouTube, Instagram
Photography provided courtesy of EN ESCH