One of the hardest working and most impressive drummers in modern music, Galen Waling speaks with Dawn Wood about life on the road and behind the drum kit.


An InterView with Galen Waling

By Dawn Wood (DWoodkillMW)
Drummer Galen Waling is a rising force in the industrial realm of music today. You may not recognize his name right off the bat now, but if you are familiar with the industrial scene, you have probably heard Waling in action. He has brilliantly marketed himself as a session and drummer for hire in a scene where industrial/rock drummers are either nonexistent, misplaced by the lack of talent necessary to make the music truly shine, or are in numerous bands. Waling is known as a theatrical, hard-hitting drummer with sharp skills and precise timing, and has risen to a position to play among the greats in the industry. He has toured with Left Spine Down, Sounds of Mass Production (SMP), Stiff Valentine, Unit:187, 16volt, Julien-K, PIG, Lords of Acid, and has been a live drummer for Desillusion, Murder Weapons, Mixed Messages, Pill Brigade, and Syztem 7 in the Seattle industrial scene.
One of the nicest and most accurate quotes that perfectly describes Galen Waling was quoted by Justin Bennett (Skinny Puppy, ohGr, Askew, and My Life with the Thrill Kill Kult) – "Not only is Galen an amazing drummer with powerful chops and showmanship; he's a cool cat to have around on tour. He's a true talent and team player – the two fundamental necessities that make one a valuable addition to any touring band." ReGen is happy to present Dawn Woodkill's conversation with Waling, having had a chance to ask him some questions about his career and upcoming exciting news in his world.
What was your first introduction to the music scene?
Waling: In general, I got in to the music scene at a very young age. Music was always played in my household and one of our family friends had a drum set he let me play on, so I got an introduction there. If we are talking industrial, that would probably be when I joined up with Desillusion.
Have you always striven for multiple drumming gigs? Do you ever wish you were just in one project or band?
Waling: When I first started gigging, I didn't even think about being in multiple bands. It wasn't until I saw drummers like Angel Bartolotta (DOPE, Genitorturers, Team Cybergeist) and noticed how much fun it seemed they were having playing for all these cool bands. I sought out a few extra gigs at first, and then it just took off from there once people knew I were available. I really enjoy the experience I get from playing from so many different, eclectic, talented musicians.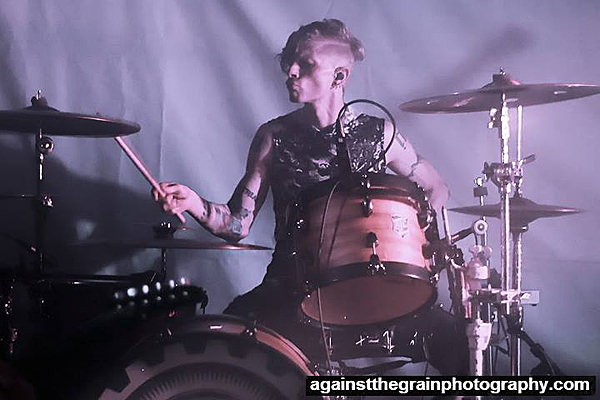 What keeps you grounded and motivated?
Waling: Playing and practicing drums. Practicing is really important to me; it allows me to see through my hard work the progress I make, whether it's a little or a lot at a time. That to me is motivating – being the best musician you can be, and having fun!!!
Tell us about your upcoming projects?
Waling: There is a lot of fun stuff coming up; studio releases such as Lords of Acid's Pretty in Kink and Julien-K's Time Capsule are coming out. I am also starting to write some possible solo material. It is still in the very early stage. I am also looking for touring work right now.
How did you get involved in drum school instruction? How has teaching others this skill influenced you?
Waling: I got involved with teaching kind of unintentionally. I've taken private lessons since grade school with the same teacher, Chase Cull, and still do when I have the time to this day. Anyway, Chase had some touring and vacation time coming up and asked me to fill in while he was away. I thought it would be a great opportunity to pass what knowledge I've learned on to others. Not only that, every musician learns and interprets differently whether they are a beginning or advanced student. There is something to learn from everyone.
Where do you see yourself in five years?
Waling: My goal is to have played at least one stadium gig.
Anything else you would like to promote?
Waling: I've got to do it – self promotion! Please contact me if you interested in having me play for your band or go on tour! Also, please check out my website.
Galen Waling
Website, Facebook, Twitter, YouTube
Photography by Heather Viereck – courtesy of Against the Grain Photography.