Artist, musician, filmmaker, prop maker… Clint Carney is a man of many talents, all extensions of his grotesque fascinations and darkly horrific imagination, never once letting the blood or the paint dry.


An InterView with Clint Carney

By Brian H. McLelland (BMcLelland)
Clint Carney is an incredibly busy guy – a multi-talented dabbler in the dark arts, Carney is able to move deftly between mediums, be it film, art, music, or prop making; all while being incredibly humble and down to Earth. Recently, Clint created the "Slusho Bobblehead" for the recently released Cloverfield Paradox feature on Netflix – just one more entry on his IMDB page and another notch on his belt. With his full-length film Dry Blood now finished and on the film festival circuit, Clint Carney looks at getting another film off the ground, a new System Syn album, and more. He took some time out of his busy schedule to speak with ReGen back in November in his Burbank home.
The first question I have is… what made you decide to set up the Patreon page?
Carney: Oh yeah, I thought it was an interesting format. It had been up for a year or two and I'd seen what other artists had done with it and it seemed like a really cool way that artists were connecting with their fans. It's kind of just an interesting business model in terms of… you make a product and you pay them for the product as they make it and that sort of thing. So I just thought I'd try it out. It's basically still an experiment at this point, but I figured I'd let it go six months or a year and see if people are digging it – if so, keep it going; if not, no harm no foul.
I had never heard of it until you posted about it and it seems like a cool way for people to pay artists for continuing to do the work that they enjoy, regardless of whatever sort of medium they consume it in.
Carney: Yeah, I saw where Erica (Dunham) from Unter Null had one going on and Andy (Deane) from Bella Morte, and I thought it was interesting; and then also Matt (Fanale) from Caustic had one and, so I was like, 'This seems cool, I'll try it out.' It's been pretty cool. I don't have a lot of people following me on there, but it's cool that I get to interact with them more than I normally would.
Recently, you went to China to help produce some footage for a horror theme park. What was that like?
Carney
: That was cool! I directed eight short films – I was commissioned to do that by a company called Miziker Entertainment. They're a U.S. company and they do attractions for theme parks around the world. They were doing a Halloween event out there at the Chime-Long Paradise Theme Park, which is the 'largest theme park in China.' I don't know if that's true or not, but that's how they advertise it – it was pretty big. So they were doing a Halloween event, which it's only the second or third year they've done a Halloween event and they built this massive gothic cathedral style clock tower, which was designed by an artist friend of mine, Chris Ulrich, who painted this painting behind me and as part of the set design, there was a big 20 foot screen that they wanted every few minutes, the clock would chime and a big light show and fire show goes off and then they show a short film. So they hired me to direct those and, yeah, I got to fly out there and kind of oversee the installation and do the final sound mix onsite and all that stuff.
That sounds awesome.
Carney: Thanks! Yeah, it was pretty fun. It was the first time… I mean, I've traveled a lot, but never been to China and that was super cool.
That sounds amazing. So when do we get to see what you made out there?
Carney: I think they'll probably go online pretty soon now that Halloween is over, so the theme park's not using them anymore. I should be able to post them soon and do a couple of director's cuts of a few of them. When I first started the project, I thought it was going be a little more R-rated than the theme park wanted, so it's more of a kid-friendly theme park, so I had to tone some of them down. So I'd like to recut some of them and put some of the gore back and then put them up online… if I'm allowed to.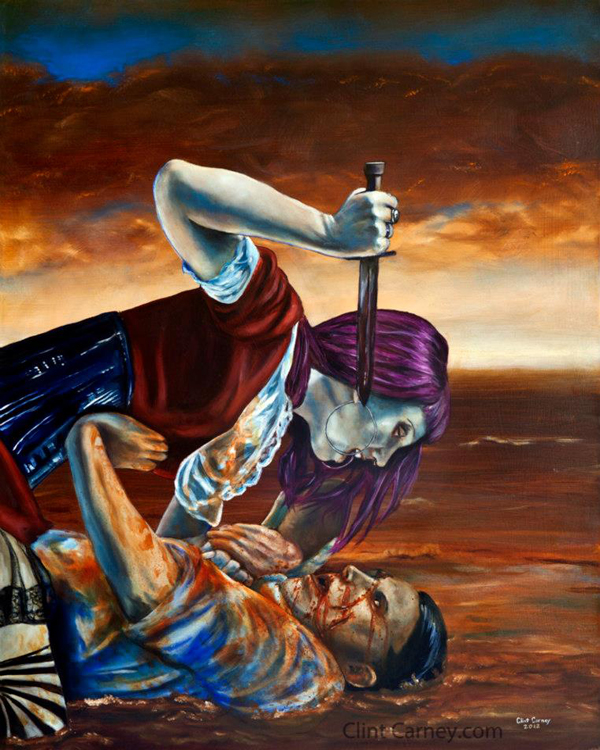 The last time that we spoke was almost two years ago, and you had mentioned that there was a new System Syn in the works, and then you did the Das Bunker show. How did that go?
Carney: Actually, I just flew in from China the day before. I flew in, I rehearsed that night, slept a couple hours, and then went for load-in for the show right after that. The show was great! It was the first System Syn show in three, maybe four years. And back three or four years ago, Adam Vex, who was also in Imperative Reaction for awhile, was playing keys for me, but he wasn't available. He lives in Colorado now, so I got Tasha Cox from Mankind is Obsolete and Alice and she came in and played and was awesome, and then John Siren on drums, who is now on the Front Line Assembly tour, drumming with them.
Yeah, he killed it at ColdWaves L.A..
Carney: Yeah, he's great.
Did playing again live get some creative juices going?
Carney: Oh yeah, I'm still working on a new album. It's still in the works. It's slow going because I've been so busy with film work and art and stuff, but the music is still… I'm working on it all the time and it's shaping up. But I've also been working on scoring the films I've been doing as well, so it's not like I haven't been doing music as much; it's just been non-vocal music. But I'm hoping… I would love to put out a new single by the end of the year, but that all depends on how things ramp up with the next movie I'm getting off the ground.
Speaking of which, Dry Blood… we're all eagerly awaiting a chance to see it. Those of us who haven't been able to attend a film festival where it was showing, when can we expect it?
Carney: We just wrapped up and did our last festival, which was in Greece last week, so now we're done with the festivals, and I can't announce yet who's distributing it, but we've had a number of distribution offers and it looks like if all goes well, it should be out in the Spring or Summer next year. So it should be available on all platforms. I'm very anxious to get it done because we shot that movie two-and-a-half or three years ago and it's been awhile since we filmed it and I'm eager to have it come out because… you know, I look a lot younger in the movie than I am now. (Laughs) I can't keep aging three years in between movies. (Laughs)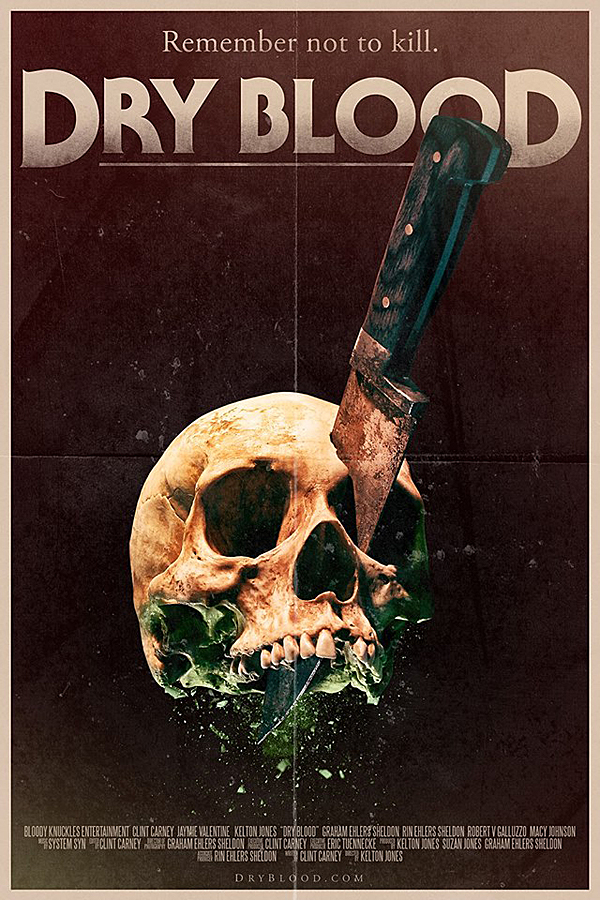 On that note, Dry Blood has won a lot of awards and from us at ReGen, congratulations on all your success.
Carney: Thanks! I've had a lot of fun with it. I love the process of making movies and festival circuit wise, it's been successful, but that's not necessarily indicative of how it will do once it actually goes to market, so I'm anxiously awaiting to see if the wider audience really responds to it.
Well, NetFlix doesn't have a star rating anymore, so you should be fine.
Carney: (Laughs) The problem with the NetFlix star rating was that I found with horror films that horror audiences tend to be really forgiving of horror films and non-horror audiences tend to be really brutal with horror films. So there were great horror films on NetFlix that would have like two, three stars, but I think if you're into the genre, you can appreciate things that the wide audience might not appreciate.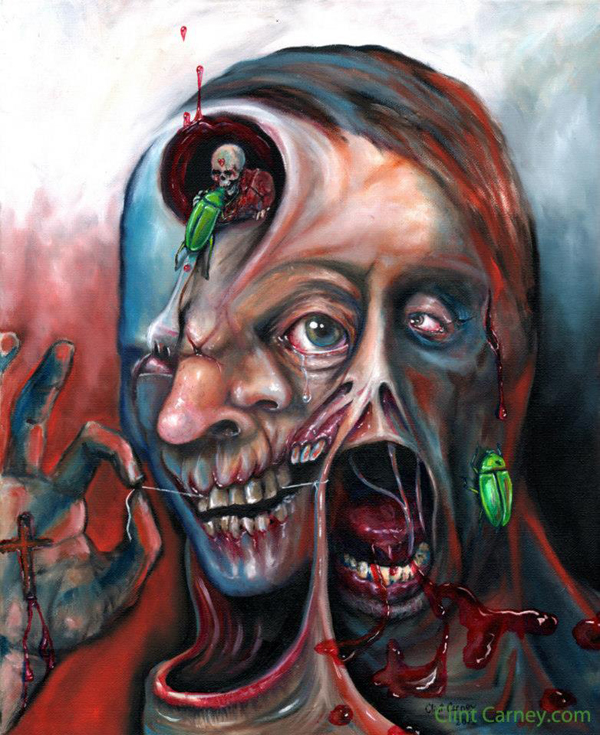 What else is going on with you right now?
Carney: Right now, I'm wrapping up a new script, which I hope to be in production early next year. This one, Dry Blood I did not direct; I was the executive producer and writer and I acted in it, but this next film I'm going to be directing – my feature film directorial debut, knock on wood. So that's what I'm focusing on right now… and painting, which is a constant. No matter what else I'm working on, I'm still always painting, but putting together my next solo show, art wise, for 2019. I'm starting now so that I have at least a year or more to complete it, so it's not rushed.
It seems you have a whole pipeline of things that are coming sooner or later. You sound like a pretty busy guy.
Carney: Yeah… I keep busy. (Laughs) I generally just don't take days off. It's been 12 years or more. I tried to take a day off. The idea was that I'm going to get back from China, I'm going to do the System Syn show, and then I'm going to take at least one day off the following week. I sat there for maybe a half hour twiddling my thumbs and I'm like, 'Eh, I can't just sit here and do nothing!' So… back to work.
That works out. All your fans are the ones who get to benefit from that, so thanks.
Carney: Thanks. I feel honored that there are people out there who give a shit about what I create. (Laughs) That's nice.
Any collaborations coming up? Any Imperative Reaction stuff?
Carney: Ted (Phelps) has been actively writing the new album for a long time now and it sounds fucking awesome. I wish I could say I contributed to it sounding awesome, but I didn't; it's all Ted. But it's sounding great and I don't know when it's coming out, but I think fans of Imperative Reaction are going to dig it. All I've been working on music wise is just the soundtrack stuff and System Syn stuff.
When is the Dry Blood soundtrack coming out?
Carney: I'm going to try and time it to be a little bit after the release of the film and then I'll probably just… well, if you join my Patreon page, I put up some of the songs already for free to download from the short films that I did. My Patreon people can just snag those for free and I also put up an unreleased single for the song 'Chemical,' which was on the album Strangers, I believe. So I put that up for the Patreon people. There are some pretty cool remixes on there – Penal Colony and 16volt and SMP, a number of bands.
Speaking of 16volt, they blew the roof off the place at ColdWaves L.A..
Carney: Oh yeah. They're always so great. I actually was talking about 16volt the other day in a separate conversation – not about the show, but just because 16volt is awesome, and then I remembered, 'Oh shit, I recorded on a 16volt album' and I forgot about that. I think back in 2004 or 2005, I played keyboards on a couple of songs. Nothing big… you know, just an honor to be able to work with those dudes – super cool guys.
Now that you've played the Das Bunker show and you have a taste for doing the live show again, we know you're working on an album and films and everything else. Is there a possibility of a tour being squeezed in somewhere maybe?
Carney: There's always the possibility, but I think for it to be a full tour, it'd have to be if I get an offer to open up for a larger band and it just worked out well. I probably… I don't have plans to do a headlining tour anytime soon. Quite frankly, the band just isn't big enough to support that and the last time I did it, it was a financial uh… (Laughs) hardship, let's say to be polite. But once the new material comes out, I'd like to do some one-off shows, maybe on the East Coast and some West Coast stuff; some big market stuff if the timing works out.
You've been making soundtracks now. When can we expect you to start playing one-off shows, John Carpenter style? It's just you and your keyboard and you just amaze people.
Carney: Yeah, I don't think that's going to happen. (Laughs) Maybe when I'm John Carpenter's age! I don't plan on scoring all of my films like Carpenter. He's a talented dude and his scores are great. I love writing music, but scoring a film… is a different thing altogether. I enjoyed it with Dry Blood and I've done it with a couple of films before, but it's not my thing. So if I have the budget, I would much prefer to hire someone more talented and that's kind of what they do. Dry Blood may be a one-off thing, in terms of my movies that I've scored, but we'll see. I'm not closing the door on it; just I hope I can afford better people next time.
Shifting gears, when talking about your art, your music, your film work, everything all together, do you feel like your creative inspirations for each one of those avenues differs significantly, or are you just applying yourself and your inspirations to all of them equally? Just as an example, do you think your film work might stray away from some of the dark imagery that your art explores?
Carney: No, my films are probably, especially the one I'm working on now, at least as fucked up as my art… maybe more. (Laughs) Dry Blood is pretty fucked up too. Nah, I just kind of gravitate towards horror and the dark aesthetic. As far as the inspiration for everything, it's all products of my imagination, so in that way, they're linked, but I guess… I don't necessarily know that the inspiration is the same or that it's different. I just sort of wake up and if I don't have something scheduled, I decide what I feel like working on that day and that's what it is. I wish I had a better, more well thought out answer. (Laughs)
There are no right or wrong answers here, Clint.
Carney: I'll just let it flow.
Last question, what are some of the things that you're enjoying right now?
Carney
: Well… movie wise, I just saw
Happy Death Day
, which I thought was pretty great – a fun lighthearted slasher film. I saw the new
IT
, which was pretty awesome as well. Musically, I just picked up the new Zbignew Preisner. He's a polish composer. I listen to a lot of classical… well, he's a modern composer, but that's what I've been listening to – a lot of orchestral stuff, just because… I'm… weird. (Laughs) It's just what has been appealing to me more lately; that's what been going through my radio. But he's a great composer, he does a lot of film scores, and I'd love to be able to afford to work with him one day. Art wise, Chris Ulrich, who I mentioned earlier, continues to amaze me. He's a friend, but I really follow his career and I'm always kind of amazed by everything he's doing. Luckily, where I live in Burbank, there are a lot of great galleries and horror shops around here, so that's always a great source of inspiration, just getting to see all the kind of horror art and horror movie themed places kind of thriving in this area. It's definitely the place to be for horror.
Is there anything else you'd like to mention?
Carney: If you want to keep up with the movie, DryBlood.com, check it out on there. And ClintCarney.com is my personal website, which is due for a content update, I'll have a new directing reel on there soon so if anyone wants to see my film work and between those two sites that's where you'll find my latest stuff. But watch for new System Syn stuff, hopefully, 2017 or early 2018 if all goes well.
Clint Carney
Website, Facebook, IMDB
System Syn
Website, Facebook, Twitter, Bandcamp, YouTube
Metropolis Records
Website, Facebook, Twitter, YouTube
Dry Blood
Website, Facebook, Twitter, YouTube