Over 10 years of silence finally broken as German synthpop act Beborn Beton returns with a new album, speaking to ReGen about just what the band's gone through to create its latest outing.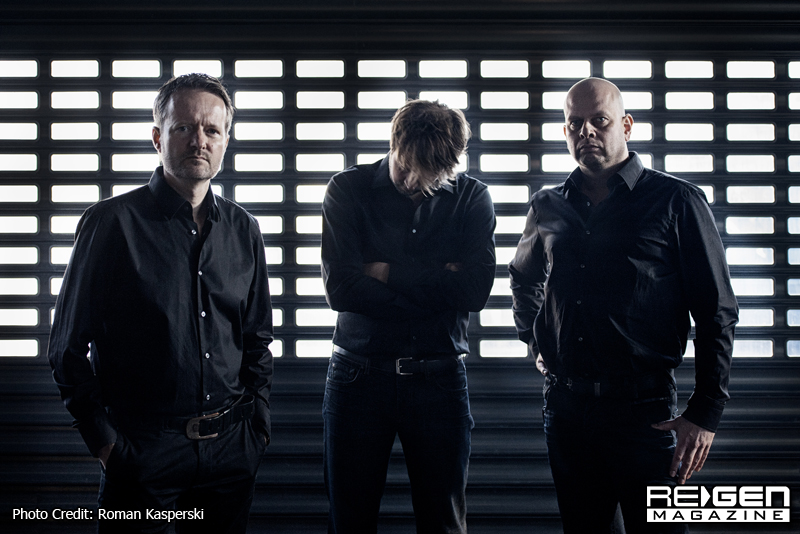 An InterView with Stefan Netschio of Beborn Beton
By Ilker Yücel (Ilker81x)
One of Germany's eminent synthpop acts, Beborn Beton has since releasing 1993's Tybalt amassed a considerable following throughout the world thanks to the band's effective blend of slick production and striking melodies. Over the years, such acclaimed albums as Concrete Ground, Nightfall, and Fake have brought the band continued success, performing live alongside and remixing the likes of heavy EBM acts like Funker Vogt and In Strict Confidence, as well as peers in the futurepop scene like Wolfsheim and Apoptygma Berzerk. Besides scoring a major hit in the U.S. with "Another World," the band is perhaps most revered for a remix of "Kathy's Song" in 2000, bringing the band's danceable sensibilities and saccharine lyricism to underground dance floors for years to follow. In 2000, the band's Rückkehr Zum Eisplaneten, featuring numerous remixes by the likes of Covenant, Haujobb, and Neuroticfish would prove to be the beginning of a long period of silence, leaving a void in synthpop alleviated only by the 2004 collection Tales from Another World. Then in 2015, the silence was finally broken with the release of the "Daisy Cutter" single, hinting at better things to come from the full album release, A Worthy Compensation. Beborn Beton vocalist Stefan Netschio speaks with ReGen on the band's activity since 2000, touching on the gestation of the new album, working with produced Olaf Wollschläger, and the changes in technology and its effects on music and the industry.
Let's get the obvious question out of the way first – it's been 10 years since Beborn Beton was last heard from; what caused such a long absence?
What have the band members been doing in the interim? What was the catalyst for the band beginning production on new material after so long?
Netschio: Actually, a few weeks after we returned from the US tour with Apoptygma Berzerk back in 2002, we started writing new material. We had been on the road for about four weeks and we had seen things. We were inspired, we were pumped; energized by the trip through the beautiful country, fueled by the response from an audience we didn't expect to be ours. Back in the day, we lived several hundred miles apart so everybody in the band started penning down ideas on his own and every three or four weeks we met to fuse the stuff we had been brooding over in our separate studio environments.

In 2006 we were looking for a studio and a producer that would meet our needs for high quality production and an understanding of what Beborn Beton is all about. Olaf Wollschläger is that person.
We met him to try working on some songs together and we instantly clicked. He completely understood where we were coming from and where we were headed. From then on, we kept working on the songs to the album, taking some time off between songs, refueling the batteries and getting some fresh ears; then revisiting songs, remixing or taking an alternate take on one or another track.
The songwriting process has not changed. The songs are written together as always. The only thing that has changed is the presence of the band members in the studio. In the past, we went into a studio for a couple of weeks to finish an album with everybody present at all times. Working on an album for such a long time, we often couldn't manage to get all three of us together to oversee the production process… to our advantage, as it turned out. When there is someone in the band who had not been involved in a three day session, it's that pair of uncompromised ears that can make the difference when it comes to evaluating the quality of what has been laid down.
You'd unveiled the opening song, 'Daisy Cutter,' and the response seems to have been rather strong; in what ways do you feel this song best represents what audiences can expect from the rest of the album?
Conversely, what sorts of surprises – both from 'Daisy Cutter' and from your past material – do you foresee audiences reacting to?
Netschio: We actually thought that 'Daisy Cutter' was a little different from what people might expect and that it might raise some eyebrows. We didn't think of this track as a classic synthpop tune. So that song being number one in German WebRadio charts for weeks now certainly took us by surprise.
Other than the sophisticated production and great songwriting, I don't think any of the songs do comply with a potential expectation by our audience. All songs are different in a way; still, they share the same spirit. People found the new album modern and fresh sounding, but still adhering to that signature sound of Beborn Beton. I think that is a good thing. Isn't it? To have an acknowledged signature sound?
Similarly, have you kept up with the changes in music since you were last productive; or to put it another way, how do you feel Beborn Beton's new music stands up to what is happening in music now?
Netschio: Not having released anything new doesn't mean that we haven't been productive and up-to-date. We are friends with lots of people in the music business, did loads of remixes for other bands, and have always been aware of what was happening. So we were prepared. It turns out that we are doing pretty well for a band that's been absent from the limelight for that long, getting awesome reviews, and topping the charts. So we are really happy with how the album is doing.
What are your thoughts on the evolution of music in the mass market over the years, and where do you feel or wish it has yet to go?
Netschio
: I personally love well crafted physical products opposed to digital downloads. I need something that I can hold in my hand and look at while listening to an album. MP3s have little value to me and I only buy music downloads when there is no other medium available. With the music industry collapsing due to piracy and online file sharing, the value of the physical medium was lost. And the major record labels failed to address this issue properly and in fair time. Streaming music is a great solution for the mass market; the only problem is the fair compensation of the artists, which at this very moment is nonexistent.
We love physical and we love vinyl. That's why we chose to release our album as a limited edition with two vinyls, two CDs, and a large format booklet – to add extra value to the music. We need to get back the value of music, of art, and we need a fair royalty model.
Similarly, being an electronic band, how have the advances in technology affected your approach to making music, and what do you see or wish the next step in that progression to be?
Netschio: We have been producing music in an entirely digital environment (nowadays referred to as DAW) since 1998, so we have become very good at it by now. We have been working with lots of different audio software, so ultimately, we have named our weapons of choice to do what we do. Nevertheless, it is the creative output that counts, what makes a project a song, and what distinguishes the best from the rest.

Photography by Roman Kasperski, courtesy of Roman Kasperski Photo Design
Beborn Beton
Website, Facebook, Twitter, SoundCloud, YouTube