One of modern music's most singularly innovative entities, Author & Punisher's Tristan Shone invites ReGen into the creative process behind his latest album, Melk En Honing, and gives us a brief insight into the language of his machines.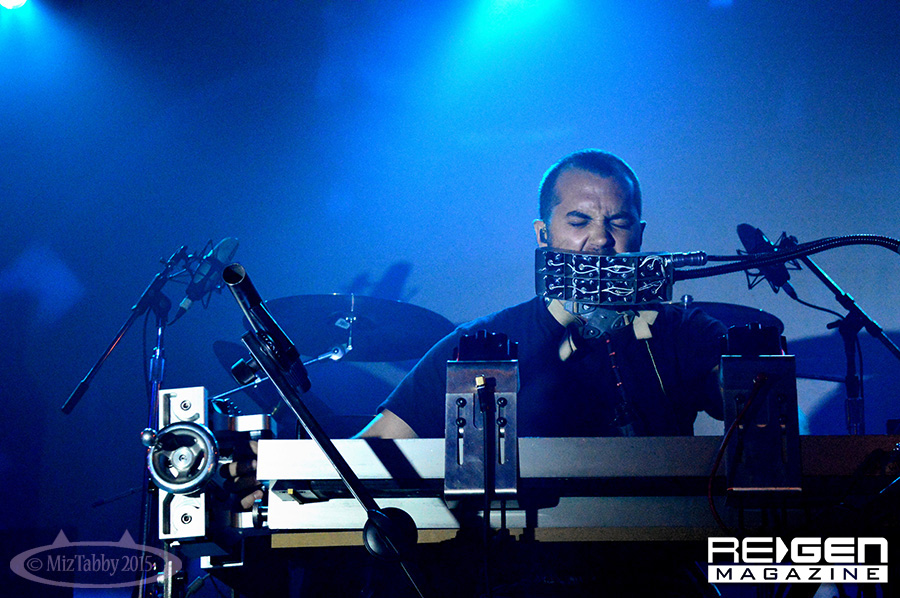 An InterView with Tristan Shone of Author & Punisher
By Ilker Yücel (Ilker81x)
When the term was first coined in the late '70s, industrial music was true to its name as a means to experiment with sound and music through industrious means. The members of Throbbing Gristle, often heralded as the progenitors of industrial music, often created their own tools and instruments while using traditional instruments in a nontraditional manner, thereby creating sounds that were unheard of; the musical style was more avant-garde than melodic, toying with the conventions of what could even be classified as music. Similarly, Einstürzende Neubauten would do the same, often building noisemakers out of scrap and common household objects and honing an arsenal of customized devices and sounds that simply could not be fabricated by any other means. Even the Ultra-Heavy Beat of KMFDM began as an audio accompaniment to an art-house installation, utilizing noise from vacuum cleaners and bass guitar feedback. While others have followed in these pioneers' footsteps, some even carrying the methodology into the realm of software by writing their own programs and plug-ins, industrial music has undergone several permutations such that it has different connotations and meanings depending on the individual. Some see industrial music as the music of machines, using and abusing technology to create a nonorganic, mechanically rhythmic sound. It was this mentality that initially drove the Birmingham, UK based heavy metal bands like Judas Priest and Black Sabbath due to the town's status as a metropolis of the Industrial Revolution – a town at the forefront of scientific and technological advancement that was once heralded as "the first manufacturing town in the world." Perhaps it's no surprise then that Godflesh, one of the most renowned purveyors of industrial/metal also originated from Birmingham, creating a darkly mechanized and downright apocalyptic sound that has gone onto influence subsequent generations of industrial and doom metal bands.

Melk En Honing
, Shone teamed up with co-producer Phil Anselmo (Pantera, Down, Superjoint Ritual, et al), releasing the album via Anslemo's Housecore Records; Anselmo has perfectly described Author & Punisher as "the epitome of what Housecore Records stands for looks for in musical expression: absolute originality and innovation." In addition, Shone is about to embark on a tour of North America, with a stop at this year's ColdWaves festival in Chicago, where he will share the stage with fellow practitioners of the darkly disturbing like Lustmord, Prurient, and most notably Godflesh. During his preparation for the tour, Shone took some time out from his busy schedule to speak with ReGen Magazine on his craft, giving us but a mere glimpse into the complex and massive process behind
Melk En Honing
and his machine-driven metal.
You are renowned for creating your own instruments – dub and drone machines – to create your music; what can you tell us about some of the new tools you created for Melk En Honing?
Shone
: This album was a culmination of all of the machines that I've built because I missed using them in certain combinations. I've also built some masks over the past couple of years that are basically voice modulating devices. I wanted to do something where you could modify your voice without necessarily having it all be done in software, so there are air pistons that open and close, an air gap while you're singing, and there's also another one that sort of has a little sphincter that opens and closes and slowly increases/decreases the volume of your voice. They're pretty simple and I do run them through some effects, but the actual overall effect is caused by the mechanics. There are also two pretty simple masks that I use for more droning singing, and there's another one called a Trachea Quad Mic, which straps onto your throat and is kind of like what the military uses when they're underwater so they can talk to each other; a regular microphone sitting out in the air might pick up a lot of room noise, but this one picks up the vibrations right off of your voice box.
Just to clarify, I definitely use these, but they are a minimal part compared to the big sort of oscillators that I use – the Big Wheel, the Throttles, the drum machines… those are the primary force. They're really noisemaking machines more than anything, and I use them a lot in between songs for rhythmic interludes and what not.
Many of them seem like refinements or modifications of previous versions; is it ever difficult for you to modify one of your tools without repeating yourself, or is that even a concern when you're designing/building them?
Shone: Not really, because these are pretty new and they don't really exist in the music world. I'm not trying to come up with stuff that hasn't been done before; I'm really just trying to make tools that allow me to make efficiently and have the capacity to make all of this music by myself on stage. I designed all of these things from the inside out so that I can do something with my right hand while I'm doing something with my left hand while I'm using my voice. My two drum machines – one of them is lighter and the other is heavier, so I can do much faster stuff. I have another version of that, which definitely has a more mechanical and quantized feel to it and is able to create polyrhythm without having to do it all back-and-forth. It's not really so much that I'm trying to create anything that I would think of as a product or something marketable; I'm really trying to come up with the most efficient thing that works well. If I build a new drum machine or I want to create that new sound, I think there are a lot of people that like to see something different now.
From what I understand, most of these machines are MIDI controllers as well, so there is software involved.
Shone: Yes, they all are MIDI controllers. There are some sounds that they create that are simply by nature of them being machines – things like motors revving and clangs and the like, but I really wanted to create high quality tools that can interface with the software in a way that you can feel the push and the pull and the resistance, and that was the whole purpose. But the actual sounds are a combination, because I'll just couple an oscillation or a sine wave with this device, and just by its natural weight and its acceleration/deceleration profile, you get this sound profile from the weight of the object. But there is something magic about this device that is creating and modifying sound in a way that even an analog synthesizer couldn't do; I mean, what Moog could do that? And I certainly could do that, but for me, the computer just gives me the flexibility to change those sounds in a way that works for what I'm trying to create.
Whether in the studio or when playing live, and because they're not standard instruments, is there ever a clash between these two different kinds of technologies?
Shone: Well, I work out a lot of those difficulties beforehand. To give you an example, I have some relays on one of my masks that basically has a coil so this magnetic field is created, and I've been running into some issues where that EMI (electromagnetic interference) comes into play. This little field is created and maybe another device or something nearby will knock it out, and there are a couple of high amps involved… that was something that I definitely had to deal with in trying to shield that field, but that's just one example.

For Melk En Honing, you signed with Phil Anselmo's Housecore Records label, and he is listed as a co-producer for the album; how did you hook up with him, and how did your process work with his?
Shone: He and his managers are always watching videos and searching for new and interesting stuff, and he had found a video of my show in Manchester, UK; a couple of days later, I had received an e-mail from Phil that said, 'I really like what you're doing,' and 'Maybe we could take you on tour?' That was it! We toured together a couple of times in '13 and '14, and they were really fun tours, so I think we really connected with each other on heavy music in a way that was, I think, pretty genuine; not in a fan boy kind of way. People are into metal for different reasons, and they'll say things like, 'I like that it's fast,' or 'It's angsty,' or they like a certain style. For me, heaviness is a much more melodic and conceptual thing, so that was kind of a defining factor for me in that he was very much in line with me on what heavy music really means.
Especially on the new album, the melodies are really well integrated, particularly with your use of multiple harmonies and the use of piano throughout. In that regard, what is your songwriting process like, and how much are traditional instruments incorporated in that aspect?
Shone
: Oh yeah! I play keyboards and piano in my setup; I've always kind of had that there because it was hard to play guitar, so I tend to run a lot of MIDI keyboards running certain tones, so I can go back-and-forth between the different machines, and that helps to keep things more quantized and clean. But I use it with machines that don't work in that traditional chord- or note-structured fashion – you can't really go from G to A to E or anything like that like you would on a guitar; you're going between stuff and gliding between them and it becomes a little bit dissonant, and I'm taking the chords and looping them in real time with a little riff, and playing the machines over them to create this juxtaposition between different tonalities. It's a blend of the atonal with tonal.
I would say between those things, I just sit and play. I really try not to just sit on the laptop and write stuff at home anymore, because that's not really so easily reproducible live. I really try to make sure that I'm surrounded by my machines when I'm writing music.
The album title, Melk En Honing – Dutch for 'Milk and Honey;' what can you tell us about its meaning for you and with regards to the album?
Shone: Yes, it means 'Milk and Honey.' I spent a lot of time in The Netherlands on a couple of different art ventures and I went to a few art festivals. I was introduced to STEIM, which is an electronic music research center in Amsterdam. I also came across Mu Design Center, and several others. I feel that was my real introduction into Europe and learning how to tour and what that meant for a band like myself, where everything is customized and difficult. I was on the train, which is extremely difficult, but invariably, I was very proud of it and just throwing caution to the wind and going for it. That title was really more of a sort of tip of the hat to the Dutch for reaching out and accepting of something new.

Melk En Honing
, because it relates to the sense of hard work and bodily chemicals that are involved – putting in your blood and sweat, and I think lyrically too, I go a little more for the ambiguous and abstract point of view. I like certain words and textures, but I live in San Diego, which is really kind of idyllic. It's always beautiful and I have a studio with palm trees outside and I surf every day. I think sometimes, people that live out here… it's almost so nice that they get frustrated and don't have any sort of visceral outlet for their… just their energy levels. I think people get very bored and that sometimes manifests itself in a way that can be violent; you know, they harbor weapons and create in their heads all sorts of government conspiracies, and it's like, 'Listen dude, just look out your fucking window at where you live! It
could
be a lot worse.' I don't think this is a fascist country like some people say, even though there is a lot that isn't right. But for me, doom metal is kind of like that outlet for those frustrations and I kind of write about that and the idea of the urban fantasy and what happens to people when they get bored. I come up with stories about invasions and depression and that sort of thing.
You've received numerous comparisons to Godflesh, and now you are sharing the stage with the band at this year's ColdWaves. How were you first approached to be part of ColdWaves, and what are your thoughts on the way this festival has differentiated itself from others that you've participated in or seen? What makes ColdWaves special for you personally?
Shone
: ColdWaves is, I would say, about the heavier side of industrial, and I really appreciate that. I feel that there's not a ton of the leather-clad EBM, which is basically now like EDM with distortion and is very tedious to me. ColdWaves… even in just the way the name sounds; I think it captures that coldness of the heavier, dirtier '90s stuff, and I think Jason Novak got in touch for that reason. Just because Godflesh was on the bill this year, I think that's why they wanted to have me back because, obviously, Godflesh is a big influence on me and I get to share the stage with the band – they are the godfathers of the heavier industrial, and to see them on stage with some of the things they influenced, I think that's pretty cool!
What are your thoughts on the current state of music – not just in industrial or doom metal – and where do you think music has yet to go?
Shone: I certainly think that there is a bunch of new great stuff that while some of the industrial fans are saying industrial is dead, there is this new stuff calling itself industrial that is really heavy, but it might not be on the metal side of things or may be on the poppier side of things or incorporating some R&B or hip-hop stuff. There's a lot of stuff that isn't quite so angsty, but isn't quite commercial, and I think that's a pleasant surprise to see some of that vibe that isn't commercial and is a little more intelligent. I think trying to latch onto this kind of '90s metal thing… it's almost like there aren't very many metal bands to come out post-2000s in the way that people talk or thought about it. I get invited on tours with those bands, and they're great, but I'm really trying to find new bands – dudes in their early 20's trying to expand their horizons. I think there's a lot of great stuff, but I think there's also this hatred of hipsters and this perception that it's all about the novelty of it, like these little hipster kids are just experimenting and playing with sounds and styles because it's cool in that moment; and there are some doing that, but you're going to miss out on a lot of great new ideas if you reject it right away.
Photography courtesy of Tabetha Patton (MizTabby), Author & Punisher/Housecore Records, and Frank Lanigan
Author & Punisher
Website, Facebook, Twitter, SoundCloud, Bandcamp, YouTube
Housecore Records
Website, MySpace, Facebook, Twitter
ColdWaves
Website, Facebook, Twitter