Highline Bar, Seattle, WA – 05-02-2018


On May 2, 2018, Ali Mojallal and the Highline Bar launched the biggest industrial festival that Seattle has seen – the 10 Year Anniversary of Mechanismus, MechFest! Although this writer has played the Highline with Murder Weapons a few times and has been to shows there, I have never seen the place so jam packed with a line down the stairs and winding down Broadway. The Mechanismus 10 Year Anniversary event handed out collectible "passports" and with the huge number of attendees, it was so busy that many of those standing in line completely missed the opening acts – The Walking Wounded and Pill Brigade. However, following a set by eminent Chicago electro act The Gothsicles, the first night was a huge success with Grendel, Ghostfeeder, and Peter Turns Pirate headlining while on the Severed Nations North American tour!
huge
sound was quite fantastic, showcasing tracks from across the band's electro/rock discography. Much to the delight of the crowd, Ghostfeeder also laid down some toms for a bit of live percussion spectacle.
Age of the Disposable Body
, along with a few classics to sate the hardcore fans, the sound was full and the light show was stunning. Lead vocalist J.D. Tucker's stage performance commanded attention with his warm and powerful vocals, thrilling the audience and enticing them to sing along.
With the Severed Nations Tour continuing until May 13, the MechFest performance was a surefire highlight for these three bands. Similarly, with other acts at the festival like Assemblage 23, Unter Null, God Module, Ayria, Legion Within, and Leæther Strip to name but a few, May 2 was a brilliant first night of four celebrating the tenth anniversary of Seattle's premier goth/industrial night. Put simply, they were not to be missed!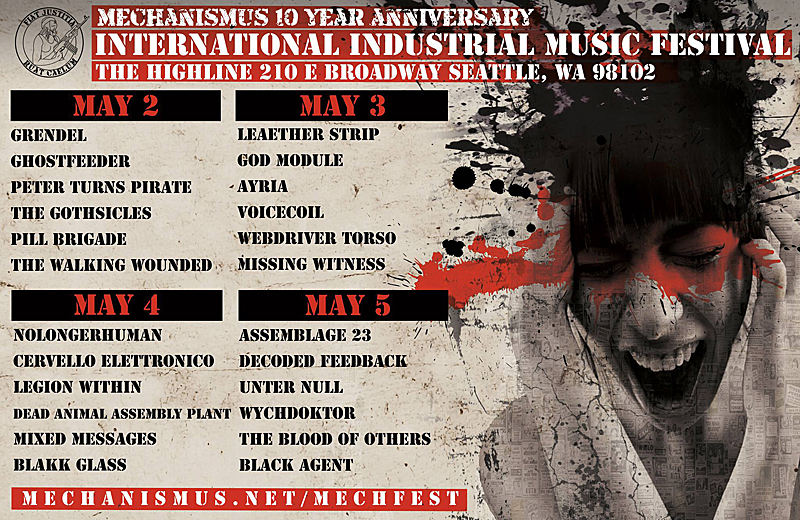 Grendel
Website, Facebook, Twitter
Ghostfeeder
Website, Facebook, Twitter, SoundCloud, Bandcamp, YouTube
Peter Turns Pirate
Facebook, Twitter, Bandcamp, YouTube
Mechanismus
Website, Facebook, Twitter
Article by Dawn Wood (DWoodkillMW)
Photography by Chamblin Hulslander – courtesy of PhotoSlavery Photography