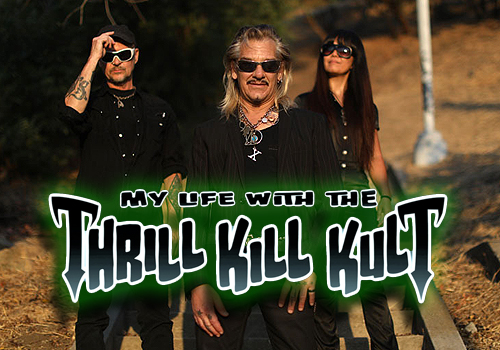 For any band to last three years is something of an accomplishment, but My Life with the Thrill Kill Kult has last three decades – no small feat, even for one of the most enduring and beloved acts in the underground industrial scene. One of the staples of the WaxTrax! era, Thrill Kill Kult is beloved for the band's raunchy and raucous blend of funk-inspired bass lines and dance grooves with a decidedly outsider visual and lyrical aesthetic that blends satire, Satanism, and sleaze into a singularly surreal concoction. Celebrating 2018 with the 30th Anniversary Show Tour earlier this year, My Life with the Thrill Kill Kult treated East Coast audiences to performances of the band's first two full-length albums – 1988's I See Good Spirits and I See Bad Spirits and 1990's Confessions of a Knife…. Even after three decades, founding members Groovie Mann (Franke Nardiello) and Buzz McCoy (Marston Daley) showed no signs of of allowing age to hinder their onstage energy, still swinging with the sexy swagger of any fresh faced rock star; backed by the cool rhythmic powerhouse of Justin Thyme (Justin Bennett), the smooth force of bass provided by Mimi Starr, and with some vocal assistance by the leatherclad Arena Rock (Camen Marusich), Thrill Kill Kult performed such beloved underground hits as "Do You Fear (For Your Child)?," "…And This is What the Devil Does!," "These Remains," "Nervous Xians," "Kooler Than Jesus," and "The Days of Swine and Roses," just to name a few, as well as ever. It was as much an homage to the WaxTrax! era as a whole as it was to the band's own history, with a multigenerational crowd embracing the Thrill Kill Kult with great fervor.
On this tour, the April 21 stop was at the Fishhead Cantina in Halethorpe, MD – a marvelous venue on the outskirts of the Baltimore area, with indoor and outdoor bar areas, the stage on the outdoor enclosure to offer just enough protection from whatever the elements dish out, complete with a rather excellent soundsystem. Among the opening acts was 51 Peg, the band delivering its own brand of industrialized melodic abrasion to rev the audience up; from Carlo Pizarro's steely guitar riffs to Brian Fasani's thunderous percussion, backed by vicious electronic layers by Tim Phillips, and fronted by the harmonic and emotive force of Jeff Sargent, 51 Peg is simply a band that deserves to be seen and heard by a wider audience.
ReGen Magazine was privileged to be in attendance at the band's appearance here, and at long last, to present this gallery of these excellent live acts from resident photographer Tabetha Patton.
My Life with the Thrill Kill Kult
Website, MySpace, Facebook, Twitter, ReverbNation, SoundCloud, YouTube

51 Peg
Website, Facebook, Twitter, SoundCloud, Bandcamp, YouTube

Photography by Tabetha Patton (MizTabby)