Zoog Von Rock – the mastermind behind the electro/punk onslaught of Angelspit – pumps up the volume, amps up the bass, and gets down and dirty on the dance floor, inviting ReGen to participate in the Cult of Fake.


An InterView with Zoog Von Rock of Angelspit

By Ilker Yücel (Ilker81x)
Krankhaus
debut, the lineup has changed, but the band's sonic and lyrical vocabulary has stayed the same, embracing edgy fashion and varying styles of electronic music to create a unique style that is identifiably Angelspit. For the band's sixth album,
Cult of Fake
, Von Rock took things in a different direction; still true to the virulent and distorted industrial clanks and clatters of the past,
Cult of Fake
took a heavy influence from modern dance music, incorporating elements of techno and EDM in a way the band's music had only hinted at before to create what Von Rock has referred to as "the soundtrack to 'Hell Yeah!'" Funded via a successful Kickstarter campaign,
Cult of Fake
also looked back to the band's past with the infusion of sounds and samples from
Krankhaus
, serving as a keen reminder of where Angelspit has been, how far the band has come, and how much further things have yet to go. Taking the time to discuss his music with ReGen, Von Rock speaks about the development of Angelspit's musical identity over the course of the last decade to culminate in his latest outing. With topics ranging from classic science fiction and political history to the breaking down of the industrial scene, Von Rock declares loudly and proudly, "Fuck Art! Let's Dance!"
You've promoted Cult of Fake as your first dance album, although that's perhaps not to say that Angelspit wasn't danceable before; what can you tell us about your thinking in making this album?
Von Rock: This album is actually focusing on dance music. In the past, when I'd done an album, I'd tried to do tempos from 80 or 90 BPM all the way through to 200 BPM, so I'd try to cover the whole spectrum, and that was my tipping the hat to Bowie – trying to be chameleon-esque, but not really… just in trying to be very versatile and diverse. But with this album, the tempos tended to stay between 120 and 140, although there is one song that is 150, and the last song is 100-and-a-bit-more (I can't remember, it might be 170). Everything else is inspired by dance music; I've been listening to a lot of EBM and EDM and IDM and a lot of other three-letter-acronym dance forms, looking at what they've done and trying to make this as pop/dance as possible. I've tried to lace it with as much sinister overtone and undertone as possible; the lyrics are really scathing and political, and that's what I think I mean by calling it dance music. You can dance to it and it is four-on-the-floor, and I've rarely ever used four-on-the-floor. I love experimenting with the kick drum, and my big influence is funk music, which is rarely four-on-the-floor. This time around, I just wanted to play with something new and different.
You mentioned the lyrics are scathing and political, and they were inspired by conversations you've had with your fans, although it still seems to be very much about what Angelspit is about – anti-corporatism and such; it doesn't seem like a big stretch in terms of subject matter. How would you say that your own personal outlook was affected by these conversations and how is that reflected in the lyrics?
Von Rock
: Good question! It's really nice when you talk to people and you discover that you have a similar sense of what's going on. Something I like even more is when you talk to someone and both of you walk away with a broadened horizon, and that's what was happening with this album. I really hope the lyrical content helps people to push their own thoughts about things, because that's what came out of it. So many conversations I've had with people about their experiences with healthcare, and the military, and education, and what is increasingly becoming the cult of poverty. It's really interesting how… god, it's amazing that it's such a class system here. We're entering into this class system where you are worth your income and it's a thing of great shame to say, 'Look, I'm financially strapped,' or 'I'm going through a period of hardship.' I mean, the amount of people that are living below the poverty line, and it's like we're not allowed to talk about that… it's shame! Everybody's getting less money on their paychecks, and yet we're being forced to live in this system, this construct that is based on affluence, and everything is expendable. You can buy and sell everything, and it's all expendable. In talking to people, I get the feeling that we've become so brainwashed that we've forgotten the fundamental thing of what it is to be human… to experience this world under the guise of being human. That's part of what the whole idea of
Cult of Fake
is, and besides the money, the internet… the narrow focus, the narrow iris of what the world is increasingly becoming. We get most of our knowledge and information from the articles that people stream on social media. I question, and a lot of people question how accurate that is. If somebody says, 'You can't eat this food anymore because it's bad for you,' or like… milk, drinking milk… well, you've got to stop drinking milk, or whole milk, or whatever. You've got to really ask who wrote the article, who sponsored the article, how much money did the pro- or anti-milk corporations put into funding this article and knowing that it's going to be shoved down people's throats via social media streams… it's bullshit, and we're feeding each other bullshit. And now, we're policing ourselves! It's really interesting how much it is
1984
or
THX-1138
, so much more than those authors ever could have imagined it. It's funny; I'm on a real bender at the moment on science fiction and watching shows from the BBC during the late '70s and the '80s. I've also recently seen Pink Floyd's
The Wall
; I'd never seen it before, can you believe it?
Really? That movie is to me one of the top cinematic depictions of madness – the surrealism of what's going on in this character's mind, the visual depiction of his memories and how it drove him to such a state, and knowing that it's based on real life experiences – I have great difficulty watching it, even though I love Pink Floyd. The only thing I've ever been able to compare it to is Johnny Got His Gun.
Von Rock: Oh yeah! I saw that many years ago. I've also been watching stuff like the original Rollerball and Death Race 2000, and all I can think is, 'Man, shit ain't changed!' It just hasn't changed! If anything, it's gotten so much worse. They're such great depictions of how even your friends and comrades are policing you out of fear of the government or fear of the system, and now, we're just afraid of everything. It's even in the drugs we take; it's all about being sedated, but it's far more insidious than any of these great science fiction movies dreamt of. Another thing that interests me is the Pax Romana, and although the Roman Empire was falling to bits and there was disease and militarization and troubles with their healthcare and education – sound familiar? – they started the Colosseums and all of these different sports to take peoples' minds off of what was going on, to distract them! It's so funny that throughout history that model has been adapted and adopted and it's what's going on now. Whatever your game is – computer games, sports, reality TV, or whatever entertainment it is… we are so bloated with entertainment that we're not really aware of what's going on. When the U.S. hit the nine trillion debt mark, nobody gave a shit! 'Yeah, who cares? Next!' But when Australia got out of however much its debt was, it was a big deal! Everybody got behind it and tried to find a long-term solution, but here, it's like, 'Oh, just keep shopping.'
There's a funny thing in America, every time you have a problem… people do not trust their government; vehemently, and even violently, they don't trust the government. When I read the second amendment, it's not about shooting anybody who steps on your property; it's about taking up arms against a corrupt government. If I'm wrong about that, somebody, please, correct me.
For a country that was founded in opposition to a government that was oppressing the people, it's become an almost self-fulfilling or self-serving viewpoint that is inherent now to the American mindset that governments are automatically corrupt, and it does seem like people take that for granted to a certain degree, especially as it pertains to the second amendment.
Von Rock: You know, I also don't understand how in this country, if you have a system of government that supplies healthcare – like England, Australia, Germany, etc. – they call that socialism. I don't know why, and I don't get it… like, I think I know socialism is. Australia is not a socialist country, but whatever the word is that means a country that looks after its people and provides healthcare and education, I think that's a good thing! But most of the people here can't seem to afford either. A few weeks ago, I was out in an area west of Chicago called Austin, and that place has some really big problems, as increasingly most of America does. It was extremely violent, extremely poor, extremely devastated by drugs, all of the shops in the main streets had bulletproof glass, and people are getting held up all the time because people don't have jobs or money to buy what they need, and people are taking drugs to escape from the shitty lifestyle and situation that the city and their lives have fallen into. Yeah, drugs are bad, drugs are wrong… that's arguable. But sometimes, those awful things are a reaction, and I think governments need to… well, who gives a fuck what I think about governments? But we the people need to figure out what we can do about this, and if that involves fucking poor people… man, I don't know.
On the last album, you had numerous guest musicians, but on Cult of Fake…
Von Rock: This is one of the only albums where it's mainly me – normally, I pull a whole bunch of people in and I get a bunch of shit happening, but this was mainly just me and the machines, with a couple of guests on two tracks.
In what ways do you think that affected your approach to making the album? How different was the experience of making the album on your own this time?
Von Rock: It was faster, and I did this on purpose because I wanted to focus on a more electronic sound. Normally, Angelspit is kind of out of a genre a little bit – you have to listen to it a few times to really get into it, and the lyrics are kind of weird. But this time around, I wanted to make the pill that I put the razorblades in as tasty as possible, and I wanted people to not even think about sticking that pill full of razorblades into their mouths; the lyrics are the razorblades. I needed to hold on tightly to the creative reigns, and I needed it to be a well designed album. A lot of the sounds I was using were big and crazy sounds, and they are often fighting with guitars and drums… but on this one, I tried to make it really simple so that the weird sounds could come through and shine.
On that note, you had also stated in the making of the album that many of the sounds and samples you used were from the Angelspit debut, Krankhaus. How did that work? Do you still have the old gear, or did you have to sample them?
Von Rock
: It's really funny; I kind of went shopping on Craigslist to grab a few bits of gear. I still have the old discs and I have all that shit, so I got an old Kurzweil K2000 and a couple of E-mu Emax samplers and Emulators. It was funny that the toughest thing to find was a Zip Drive so that I could talk to them, because it's really hard to find those anymore. It's crazy how technology is continuing to keep pushing the old models aside. They're just now starting to phase out CD drives in computers. But finding a computer that can actually write onto a floppy disc (not a USB)… it's coming up on 10 years now since they've had motherboards that can even read those. You could use USB drives, but if you write a disc in a USB drive, the old samplers can't read them; isn't that boring?! (Laughter) The point is shit's changing, and looking back, it was really nice to make music by looking at a little LCD screen, and it was great hearing those sounds again, man! Especially to hear those old crunchy, crushing percussion sounds, they haven't lost any of their punch! A lot of those sounds actually were the gates of the house I used to live in – they had this great big iron gate, and I would just fucking abuse and sample the shit out of that thing to get all of those crazy bashes and clanks. Music has become so preset-driven; you can get a softsynth of any synth or sampler that you want, and it's got everything in it, and you just play those sounds. I use an Emulator-II and an Emulator-IV a lot – beautiful samplers from the '80s – and there are these sounds banks on them that are fan-fucking-tastic! There are samples of PPG waves and Synclaviers, and all of this grand technology that's basically disappeared; I used to guard that shit so carefully. I then found out that a very popular softsynth got a hold of or bought the licensing to those sounds, so now anyone and everyone can use those sounds, which is really good that you can express yourself. But what's crazy is that the whole art of sampling, of shoving a microphone into something… I mean, I have a trash can in my studio that is specifically for drums. I use it on almost every single track; almost every single track I do has the sound of a trash can being beaten the shit out of in one form or another. It's industrial music, man, and it's really good getting back into that and sticking it into an old sampler. The joy of creating a sound by using a microphone and sampling whatever limited things you have is disappearing. Sure, you have all of these banks and sounds at your disposal in modern software, but it's not as fun, and people aren't as dedicated to making this sound awesome!
Yes, but then you have an artist like Author & Punisher who builds his own devices and people who Tristan had referred to as 'hipsters' who are creating new music and new methods and innovating in a way akin to the old industrial artists, not unlike what you're talking about. But perhaps the 'hipsters' he's referring to are not the people who grew up with industrial music, but instead came into it by some other means, and so they're not part of the scene and they aren't perceived as genuine by the scene.
Von Rock: You know, if we had people like Author & Punisher or Pharmakon 30 or 40 years ago at the same time as Throbbing Gristle, they too would be elevated above all else. That's a huge gripe that I have with 'industrial music' now – let us remove the whole idea that we are in an industrial nation, group, whatever… yes, we speak an industrial language and wear the earrings and the fashion and read the blogs and blah, blah, blah, blah, blah! How about we just pretend that we are free thinkers, and we don't have to be the next generation of punks or whatever… I don't give a fuck about that! I'm interested in banging noises, clank-clank, bang-bang, fuck you! That's what I want. I'm tired of this really strict idea that it's not industrial if it's not in Side-Line, or something like that. We've completely lost the fucking point! And hey, I love fashion statements! I wish people gave more of a shit about fashion, but they don't anymore! I'm realizing increasingly that the audience of 15-20-year-old kids should be ours, but they're not ours because we're too arrogant to change and to adopt and adapt. Everybody got into this in the first place because it was new, interesting, fantastic… but as it is with every single fucking community, religion, anything in humankind that is supposed to bring hope for something new breeds structure, and with structure comes conformity, and then conformity becomes the same fucking thing over and over and over again, until we've had 15 years of the same goddamn albums! What the fuck?! Meanwhile, these kids who we shit on for whatever reason are listening to the craziest music, and sure, we've still got our pretty fucking hard music going on, but this is really crazy, innovative stuff, and it's new, and why aren't these kids coming to our clubs?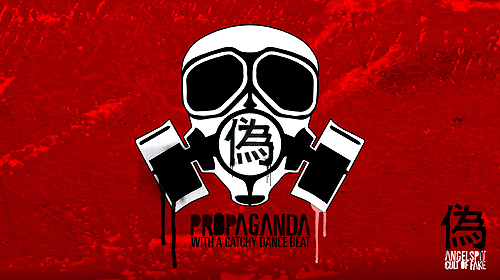 Call me crazy, but I always thought the function of a really good DJ, besides making people dance, was to say, 'Hey, check this out. This is new,' and then have people come up to the DJ and say, 'Hey, what was that?'
Von Rock: There are only so many times you can hear 'Headhunter.' I passed my fucking threshold for that song years ago. Great song, don't get me wrong, but this is the thing about the whole fucking… industrial music has become another '80s movement, where we want to turn up to listen to the same shit over and over and over again. The only thing that's changing is the number of wrinkles on our damn foreheads because we're getting older! We are supposed to be a punk scene. We are supposed to be new and innovative. We're making the same shit! Everyone's using a fucking Access Virus, using the same goddamn sawtooth sounds! Oh my God, it hurts my mind! It's really excellent that musicians are getting into modular synths and D.I.Y. stuff, and you can build a synthesizer online for like $30 and get these weird sounds… we've got to push the weird factor! We've got to go, 'Fuck art! Let's dance!' Let's fucking have fun with this and celebrate being weird! We are supposed to pride ourselves on being weird and the whole concept and definition of weird is to be outside the norm. We've created a new norm! We are chasing our tails! The horse is dead, stop flogging it, and let's move on!
I was watching episodes of N.C.I.S., and on the soundtrack was a SKOLD vs. KMFDM track in one episode, and a Celldweller track in another. I used to think it was a great thing when shows like that or La Femme Nikita would use edgy and underground music in their soundtracks, but now, I wonder if the artists were fooled by the idea that their music being on these shows would get it heard. Nobody's paying attention to it; it's just background fodder. Of course, who doesn't want to be noticed and be heard, but at the same time, the moment you are, you're a sellout and you're not authentic or a real artist anymore. It's such a double-edged sword, and now like you said, we have created a new norm, and people are afraid to break away from it and be creative and unusual again, and let those TV shows or mainstream outlets take 10 years to catch up to them… and by then, they've already moved on to doing other weirder things.
Von Rock: Yeah. I have no problems at all, for the record, of any band getting their music heard by licensing their shit out to Coke or whatever. No problem – you've got to get your music out there somehow. I've tried to get my music licensed, but it can't happen because it's too weird. So, I just say, 'Okay, fuck it! I'll just do my own thing.' There's a really excellent formula – for all those bands listening – that The Cure and Duran Duran and Depeche Mode used to do in the '80s, and I think a lot of them still do, is that they'd have 12 tracks, and a third of them were hooks, and they'd be thrown out into the ocean and they are to catch fish. And you'll probably do videos for those three or four songs. Four singles, four videos, bam! And then there are four songs, another third that are for the guys and the girls that are fans of your band. They may be a little more unique, a little bit weirder, and a little more true to your sound and all that shit – keep the kids happy. And then there are four more that are for the band, and this is the weird experimental shit that the band does to power their inner sanctum, to power their energy, and to keep them happy. The way it's supposed to work is the more you get into the band, you get deeper and deeper into the layers and the levels of these kinds of songs. If you do that as a musician, you will stop yourself from going crazy very, very fucking quickly!
As far as Cult of Fake, which has just been released on June 6, what are your plans as far as performing live? Will Angelspit tour again?
Von Rock: Oh yeah! I want to tour it in September, and it looks like there may be an American tour. I don't know if I can get overseas again in the immediate future, but I definitely am looking at going overseas. In fact, one of the new members – vocalist Lorelei – is going to Germany to Wave Gotik Treffen to put the feelers out. I'm also launching a Patreon; one of my problems is that it takes me a long time to write a track. It takes me 18 months just to write one song, so I will end up writing 12 songs at the same time over the course of those 18 months. I want to try something different for myself personally where I spend only one month writing a song and put it out after a month. I'd do this in the past on remixes, and when I would, it would sound very differently. I also want to be doing live streams and experiment with the ideas of Cult of Fake; I'm not going to lie, I fucking love dance music!
It's fun! It's fun for a reason.
Von Rock: It absolutely is! I want to fuck around with that more. Cult of Fake is the beginning of… I don't know; maybe I'll have a trilogy of dance music. I want to push this more and I want to see where this rabbit hole leads.
A constant discussion I seem to have, and it's a topic a writer at ReGen wanted to pursue in an article, is the idea that a band should stop after it has lasted a certain amount of time, has released a masterpiece or two, or even a few masterpiece albums, and then stop instead of continuing to make music (i.e. the 'The band's not as good as they used to be,' or 'Everything they've done since this album is shit' or whatever). Angelspit has carved a unique niche for itself – no other band really sounds like Angelspit; is it ever a concern that you might be repeating yourself?
Von Rock
: All the time. I'm really pedantic, and I put it down to an accent – music is a reflection of somebody's accent and sense of humor, and those things are going to change over the years, but they are ultimately the same. When you get a bunch of people working together, because of the way your mind works, it's going to change but it's going to be very similar. I was talking to Andy Deane from Bella Morte; I rang him up and we are both
Star Wars
nerds, and he'd asked me if I'd seen the new movie, and I don't fucking care! But anyway, we were talking about the new movie and we were talking about one thing that bands hate, and we get this all the time, is when fans say, 'I like your old stuff better than your new stuff.' Fuck! Oh my god! So, we're talking about this, and we compared it to
Star Wars
, and I was saying that when you look at it, it's the same – it's a similar vibe of the characters, it's in the same universe and you know where it is, and there's that spaceship again, and hey, there are the old characters back again. There are similarities, but there's something different about this one. There is! We are not going to get into a five-hour-long argument about it. There
is
something different! The music's got to be like that too. 'Okay, we're going to set it on a desert planet,' so those might be the chords, the actual spirit of it is the chords that you're using. 'We're going to have different characters,' so that's going to be the lyrics, and they're going to be hitting slightly different topics, or maybe from a different perspective. I'm going to change the beats, speed them up or slow them down. You can present something that is still you, but it's on a different planet or whatever. One of the really huge fucking problems that you have – as you well know, my good friend – is that if it's new, the DJs are
supposed
to play it! But ultimately, if the kids don't know it, they're going to sit down. That's why we still get 'Headhunter' and Siouxsie and the Banshees and all that great shit because it keeps people on the dance floor, which the DJs are obligated to do to sell people beer, keep the promoters happy, keep the clubs happy because the owners are happy that they keep selling enough beer so that the club doesn't close. That's why for a lot of bands, it's really hard to toe the line. You can say, 'Oh, that fucking band is putting out the same fucking album for the past five years.' Yes, but people are still going to the shows. That's the really difficult part because ultimately, people are going to vote with their bums; if they don't like the movie, they're going to get up and walk out. It's a really hard line to toe, and before you know it, you're writing the same shit over and over again. Severed Heads summed it up perfectly – that band started its own record label in the '80s called Dogfood Productions, and they'd just say that they got the off cuts of all the meat, all the intestines and the hooves what not, chopped it up, put it in a tin, and sold it to the dogs… which is really kind of fucking brutal. That's the brutality of Tom Ellard, though, God love him. But, he's fucking right! Those albums that he refers to as dog food I fucking love. (Laughter) People like what they liked about you first. My main argument is when people say to me, '
Krankhaus
was your best album,' and I say, 'Actually, it wasn't!'
Blood Death Ivory
, in my opinion, is way better, and I think the new album,
Cult of Fake
is the best one yet! I think the next best one is
The Product
, but the point is people like
Krankhaus
because it was the album they got into first. That's the album where they said, 'Oh my God! What is this?! I've never heard anything like this.' Then comes the second album, and it's not as good as the first one because when that first one came out, it was 2006 and the average club had like 400-500 people in them with the big hair and the big shoes; this was the epitome of goth/industrial music, and shit's changed. It's the same thing about Skinny Puppy. When you listen to their new shit, it's fucking amazing! There's no fucking comparison! It is way better than
Too Dark Park
, and that is my favorite Skinny Puppy album because that was my entry point. It's the same thing with Front Line Assembly;
Tactical Neural Implant
will be the greatest album they'll ever do because it was the first one I heard, although their later shit is
way
better. Of course, Rhys Fulber is a fucking genius, but I digress. This is a trap that bands can't really get out of, and it's the same thing about you and your girlfriend loving this song because that's the song you fuck to… and then you break up and you never want to hear that fucking song again. It's the same, but different – it's the exact same power and emotion and passion, but it's on the other end of the spectrum. You love that album because it's what you listened to when you were an angst-ridden 20-year-old and you've attached all these good memories to those songs, and that's why you want to dance because it's a celebration of all the good shit.
The actor Peter Ustinov once did an interview in Japan where they'd ask him what his favorite movie was out of all that he'd ever done, and his response was, 'The next one.'
Von Rock: Yeah! That's so true.
And of course, whenever people say, 'This band should've stopped after that album,' my response is always, 'Yeah, because going to work at McDonalds or in an office after making that great album is such an appealing notion. Would you do that?'
Von Rock: What are you supposed to do? You've been making music for all this time and you're now in your 40s or your 50s, and what're you supposed to do? And you mentioned 'the next one,' and that's the drug, man! I can not listen to an album once it's finished, once it's checked, once it's mixed, mastered, printed… I can't listen to it again.
Because you've heard it a million times by that time.
Von Rock: Yeah! I can only listen to Hideous and Perfect now, and I haven't really been able to listen to Hello My Name Is, and I've only listened once or twice to The Product, but that's because I'm so close to them. You know what it's like; you have a fucking nervous breakdown after every album. You're still recovering and you're almost eating properly again, but you're already writing down lyrics to the next album, and you're walking down the street and you think, 'Oh, I've got the coolest bass line in my head.' The reason that you make music like this is because it's the way your brain works. The fact of the matter is your brain is overworked trying to figure out how to fix this world; sure, there is beauty in the world, but it's all fucked up, and this is how our brains work. Part of the output of this great problem solving ability that we have as humans is not just regular solutions, but musical solutions, image solutions, design solutions, and fashion solutions – if you're a composer or a musician, your brain outputs music and lyrics and beats and rhymes. That's how it is, and that's why the next one will be the best one yet… until you've finished it and you just can't listen to it again…
… and then you move onto the next one.
Von Rock: You got it!
Is there anything more you wanted to talk about that we haven't touched on yet?
Von Rock: I just want to encourage everybody to fucking not give up, to keep making your art, and I always go on about this, but it's got to be said. I believe that we've entered a time of desperation where we've become so calcified and blocked, and there's so much noise in our heads that if we have a creative hobby, fuck being a rock star or a great painter or whatever, because that doesn't fucking matter anymore. You've got to be a good human. Get back into your hobbies; even if it's painting Warhammer 40K figurines or building models, trains, or whatever the fuck it is because it's training your brain and helping your brain remember that the creative solutions are always there… to your job, your relationships, marriages, to your children, parents… whatever the problem is, there is a creative solution. You've just got to exorcise it because aside from all the shittiness, life is fucking awesome! Rock!
Angelspit
Website, Webstore (Black Pill Red Pill), MySpace, Facebook, Twitter, SoundCloud, YouTube