The Riot Room, Kansas City, MO – 06/03/2018


"Making life livable since 1988." – Phil "Phildo" Owen
ReGen was lucky enough to catch one of the few shows on the Skatenigs/CHANT tour, one of what according to CHANT's Bradley Bills was the last of only five shows on the tour… a tour celebrating Skatenigs' thirtieth anniversary as a band and CHANT's fifteenth anniversary of performing live.
Kansas City's own Evil Kunst opened once again, this time being down a guitarist as Kyle Clavicle was out sick for the show. Even with the band carrying on as a three-piece, Evil Kunst's music is still as hard to describe as it is to fully comprehend. Jaundice Joplin kept up his nonstop electronic beats, synths, and movie samples, rarely pausing even in between songs. Painless paced the stage as she aggressively performed her spoken word style vocals at the audience, while Irate Dreamer changed his backing growl sounds again using a vintage style microphone and distortion box. Overall, one could feel the loss of the juxtaposition of the guitar with the rest of the band's heavily electronic sound, but it did make it easier to focus in on those aspects, which might ordinarily go unnoticed.
Bradley Bills then took the stage as CHANT, going solo this time, whereas on previous tours, he had been backed by guitarist Alvin Melivin and keyboardist Kristopher Robin, both usually providing extra drums. With a drum setup that spanned more of the width of the stage with a screen to display some imagery synced up to the music, Bills explained that this was a recreation of his first live set, with some touchups to account for what he had learned in the years since. As such, the set did not include anything off of his last two and most well known albums,
Strong Music for Strong People
and
Brand New Apocalypse
.
Instead, it was mostly early instrumental demos and remixes and with the lack of vocals throughout most of the set and the video behind him, the focus was taken off of Bills and put more on to the music and atmosphere, and the effect was mesmerizing. His backing tracks were filled with synth pads and ethnic chanting as Bills pounded out various beats over them. One may be inclined to call it cinematic, but the experience didn't need to accompany a movie to feel complete; it was its own inclusive experience. He closed out his set with a remix of This Mortal Coil's "Song to the Siren."
Bills then pulled double duty as the drummer for Skatenigs on this tour, joining Chris Ahrens, Chris Gates, Myke Bingham, and Phil Owen onstage. Skatenigs does not put on a flashy show, but the band conveys the same energy and momentum as on the albums. The group poured over tracks from all three Skatenigs albums, presenting a unique mix of Texas style rock, punk, and rap, and while this writer has been to quite a few older WaxTrax! band's shows, this one was different. There were less people dressed as goths or rivetheads, and more average looking people of the 40+ variety that seemed to show up just as Skatenigs took the stage.
Quite a few of these people went on to talk to Owen after the show about how important the band had been to them while they were growing up. There was a nice sense of comradery as each of the bands made themselves available to talk to anyone that wanted to, and plenty of people took them up on the chance; in turn, the bands seemed to appreciate the people that showed up and the people seemed appreciative that the band came through Kansas City.
Skatenigs
Website, Facebook, Twitter, ReverbNation, SoundCloud

CHANT
Website, Facebook, Twitter, ReverbNation, Bandcamp, YouTube

Evil Kunst
Facebook, Twitter, Bandcamp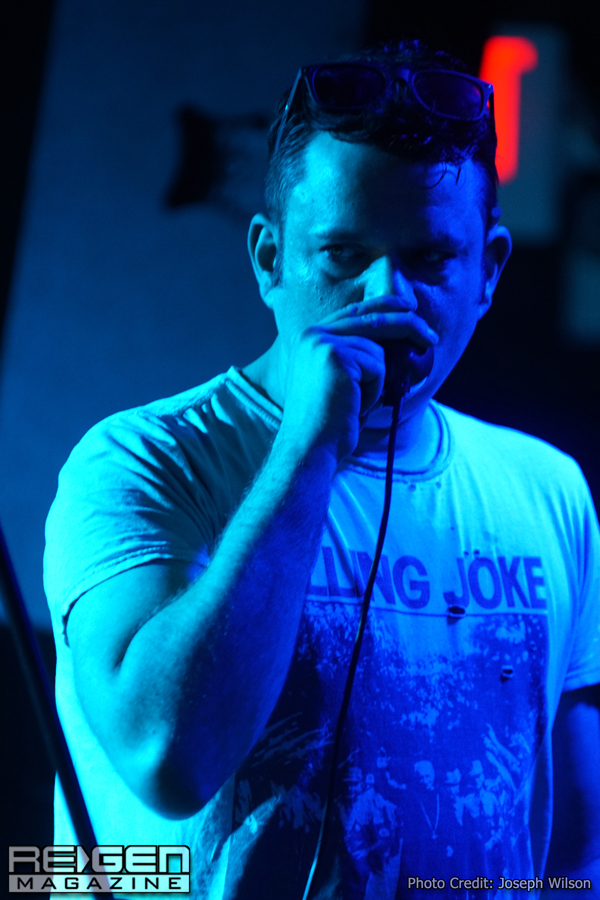 Article by Douglas Leach (nowandforalltime)
Photography by Joseph Wilson (JWilson)